Brick Painting – Dallas, Fort Worth, TX
Paint Exterior Brick for a Fresh, New Look
For some homes, raw brick brings unique character and texture. However, some colors of brick can actually take away from a house's curb appeal and show its age. Revamping the exterior entirely is expensive and often unrealistic, but you don't have to be stuck with boring brick. Have you considered painting your brick? At Platinum Painting, thousands of happy North Texas homeowners have breathed new life into their exteriors through this one simple change. When you look at our before-and-after success stories, you'll become a believer too!
Why Choose Brick Painting?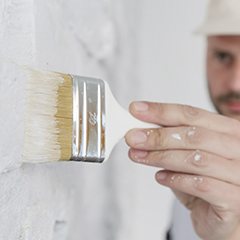 Some homeowners hesitate to paint brick because it's not reversible. Once you commit, you can't return to raw brick. But don't let that scare you away from this option. Tons of homes have been drastically improved with a refreshing color on the brick, updating the curb appeal and creating a more welcoming exterior. During your in-person estimate, we can offer some useful advice, talk you through the process, show you examples of our previous work, and help you find the right solution for your house.
Benefits of Brick Painting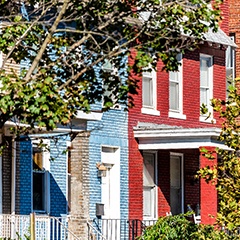 Painting brick is a permanent change, but if you take a quick glance at our before-and-after photos, you'll quickly see that this change is definitely worth the investment. When you paint your exterior, you can get these benefits.
Brightening Up Your Home
Earthy tones for brick had their moment in home design, but these shades blend in easily with their natural surroundings. In fact, some brick homes don't stand out at all! With some dark brick shades, the house can appear foreboding or give the wrong impression to passersby. To contrast your property with the landscaping and other houses, you can paint the brick a lighter color. This makes it far more inviting from the outside to your guests and potential homebuyers in the future.
Protection from the Elements
Although water is necessary for life, it can damage many materials, including brick. Compared to wood, brick is fairly durable, but over time, the brick can become weak and allow access points to the home's interior. Its porous surface traps moisture and can eventually erode, but specially formulated primer and exterior paint adds another layer that guards your home from moisture.
Process of Brick Painting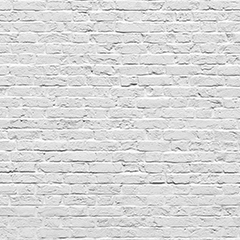 As painting experts with more than a decade of experience, we know the difference between painting brick and other surfaces like stucco and siding. With its pores and rough surface, brick requires detailed work to get an even, perfect finish, and that's where we excel. Here's how we paint brick to give you the best possible results:
Before we paint, we need to work with a clean surface, so we power wash the brick, getting rid of dirt and grime.
Afterward, we inspect the brick, looking for areas that need to be caulked or filled (such as cracks or gaps). Once they're sealed, we can move on.
A masonry-specific primer is then applied to the brick.
Following the primer, we put on several uniform coats of exterior paint onto the brick surface.
When we're finished, we take the time to clean up the work area and go through a final inspection with you, ensuring that you're happy with our work.