Popcorn Removal – Dallas, Fort Worth, TX
Update Your Walls and Ceilings
In the middle of the last century, the "popcorn" texture on walls and ceilings was very popular. However, these days, this style choice has fallen out of favor. Without the proper tools, removing this texture can be challenging and even dangerous if asbestos or lead are present. Luckily, our team at Platinum Painting can offer this helpful service to families throughout the DFW area. Are you ready to bring your home into the 21st century? Contact our team to get a quote for popcorn removal!
Why Choose Us:
Based in Dallas/Fort Worth
Insured
Satisfaction Guarantee
Serving All of North Texas
The Benefits of Popcorn Removal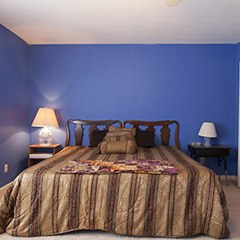 Changing the texture on the walls and ceiling can help you update your spaces and give them a modern, clean, and finished look. In fact, many of the homeowners we've worked with are floored by how sleek their homes look after the popcorn texture is gone! This update is particularly helpful if you are planning to sell your property in the near future, as outdated finishes can deter potential buyers.
Not only can removing this texture help with your home's aesthetics, but also with your family's overall well-being. The rough popcorn can easily accumulate dust and grime from the air, especially next to the ceiling fan. Because these surfaces are difficult to keep clean, people who struggle with asthma, allergies, or other breathing issues can experience worse symptoms. Simply getting rid of the popcorn can reduce the irritants in your home and help your family stay healthier.
The Steps of Popcorn Removal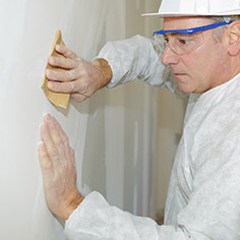 Before we get to work, we'll remove all light switches and fixtures. We may also move furniture out of the room. Our team will cover your floors and any remaining furniture to protect them from debris.
With a powerful water gun, we'll saturate the walls and ceiling and then scrape the popcorn surfaces off in large chunks.
When we reach the underlying layer called the substrate, we will create a flat finish with any necessary sanding and priming.
Finally, our team will clean up all the debris and materials. We'll take the time to vacuum and handle any other deep cleaning we need to leave the space better than how we found it.
What Happens Next?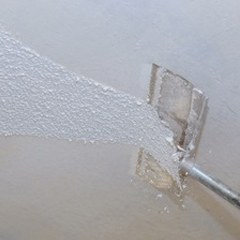 After the outdated popcorn texture is gone from your rooms, our team can then help you decide on and implement a brand-new design. Whether you want a new texture or a fresh coat of paint, we know how to take your vision and add attractive character and beauty to your living spaces.