Cabinet Painting – Dallas, Fort Worth, TX
The Easy Way to Revitalize Your Cabinets
Are you interested in giving your kitchen or bathroom a fresh, new look? In these rooms, cabinets play a large role in portraying the style and tone of these high-traffic spaces. However, replacing outdated cabinets can cost several thousands of dollars and lead to unnecessary waste. Instead, you should consider a much more budget-friendly option—cabinet painting. Not only can some new coats of paint with Platinum Painting make your cabinets shine like brand-new, but this cost-effective project can save you significantly in time and money.
What Can We Paint?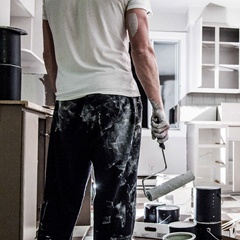 We are residential painting experts, which means that we can handle every cabinet configuration in any room of your house, regardless of how difficult they may be to reach. Here are some of the kinds of cabinets we can paint:
Center islands
Kitchen cabinets
Bathroom cabinets
Garage cabinets
And much more!
The Cabinet Painting Process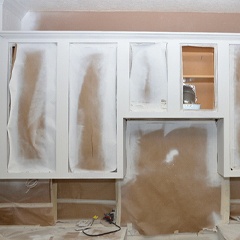 We offer two different methods of cabinet painting, which we can customize according to your style and budget. Most often, we recommend spray painting to our customers because it leaves a smooth, seamless finish that makes the cabinets look as if they are new. Before you inspect our work, our team will apply multiple coats for even, lasting coverage and will check to make sure that there are no drips or small blemishes anywhere.
If you are looking for an even more cost effective option, we can use the traditional "brush & roll" method. Although the finish won't look quite as polished and sharp as spray painting, it can still transform the cabinets in your home.
Painting Cabinets or Resurfacing Cabinets?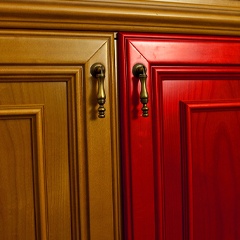 With Platinum Painting, we give you the option to either paint or resurface your cabinets. Both choices have advantages and disadvantages, and we'll guide you through them to find the perfect option for the design you have in mind. However, we typically recommend painting more than resurfacing because:
Cabinet painting tends to be less expensive and is ideal if you like the style of your cabinets.
Resurfacing generally takes longer, meaning that the project may disrupt your day-to-day life for longer.
Painting is better for the environment and produces much less waste to go to the dump.