House Painting – Dallas, Fort Worth, TX
Transform Your House into a Home
Who wouldn't like coming home to a more comfortable and welcoming house? As residential professionals, we at Platinum Painting know how to create this kind of atmosphere for your home. We offer the whole spectrum of residential house painting services, whether you want a single interior room's walls painted or all-over transformations for exteriors and interiors. In over a decade, our team has honed the necessary skills to provide the results you're looking for, down to the finest details. To learn more or receive a complimentary estimate, we invite you to contact our Fort Worth, TX location today.
Why Should You Paint Your Home?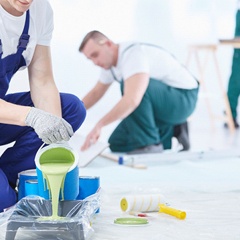 Painting your home's interior or exterior does so much more than simply enhance its appearance. A professionally applied coat of paint has many valuable benefits, such as the following:
Budget-Friendly Remodeling – Most dramatic home renovations cost tens of thousands of dollars, but painting is a low-cost way to breathe new life into your living spaces.
Lasting Protection – In the crazy North Texas weather, your home's outside walls have to deal with a lot of moisture and strong forces. High-quality, protective paint can actually make these surfaces last longer. Likewise, painted walls inside help the house withstand wear and tear over time.
Improved Curb Appeal & Resale Value – Clean, attractive paint both on the inside and outside of your home can attract more prospective buyers. You may even find that your house increases in value!
Dirt & Dust Are Minimized – Plaster wall inside the house can accumulate dust and dirt over time. New paint keeps these surfaces from becoming and looking grimy.
The Benefits of Professional Painters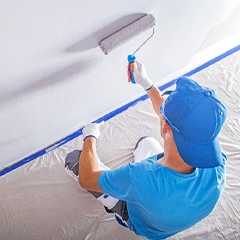 Perhaps at first you think that you should paint your home on your own. Some DIY projects can work out well enough, but when it comes to painting your home, getting professional help is worth the time, money, and effort. Here are just some of the advantages you can enjoy when you give us a call instead of trying to do it all by yourself:
We know all the best practices, painting techniques, and materials in the industry, so we are able to work more efficiently and deliver the highest quality every time.
We are dedicated to safety and use the necessary protective gear and equipment and make sure each project is handled with the utmost care, regardless of the size or scope.
Our services go beyond just painting – our professional team will also take the time to address unsightly stains, cracks, scuffs, and holes along the way!
Most importantly, you and your family will have NO stress whatsoever about the cleanup. Our Platinum Painting team will take care of everything, while you simply enjoy your updated home.
Detailed Painting Services from Our Trustworthy Company
At Platinum Painting, we are specialists in painting the interiors and exteriors of residential properties, and we've worked with homeowners from all over the greater DFW metroplex area. We can perform comprehensive home painting services so that you can trust just one company for all your projects without having to deal with draining DIY projects or sloppy hired hands from several different companies.
For every project, we use the highest quality of supplies and materials, which typically means Sherwin-Williams's top-tier paints and primers, outstanding rollers, brushers, and other professional tools. When you choose Platinum Painting, you know you're getting the best in the business. Making your dream home makeover a reality could just be a phone call away – contact us now to get started!