Commercial Painting – DFW, TX
Create a Professional Atmosphere
Do your customers come to your commercial space? Or do you have employees onsite? Regardless of the setup, your business needs an environment that contributes to your success. A fresh coat of paint on the walls can help set the tone you want—whether it's exciting, fun, soothing, trendy, creative, or whatever vibe you're going for. Platinum Painting's experienced team can give you and your business the perfect space for clientele and employees alike. To learn more details about commercial painting, contact us, and our estimator will come to your location to give you a free estimate.
Why Choose Us:
Insured and Bonded
Local Owned and Operated
Free In-Person Estimate
What We Paint
Like homes, every commercial space is different! From a small shop to multiple buildings, each project receives our close attention. Platinum Painting is prepared to paint the following types of commercial properties:
Shopping centers or strip malls
Office buildings
Apartment buildings
Hotels
Religious buildings
Interior and exteriors
And much more!
How Our Painting Process Works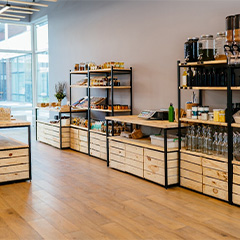 As with our residential projects, commercial painting begins with an estimator being sent to the site. After taking measurements, they will consider the scope of the work and provide a written estimate for completing the project. When you're ready to proceed, we'll schedule a whole team to come and take these main steps:
Project setup: No need to remove décor from the walls or move or cover furniture—we can do that! However, please take care of anything particularly valuable before we arrive. Prior to painting, we will take a closer look at the walls, clean them, and caulk or sand wherever necessary so that we have an ideal surface to paint.
Painting: If you have a preferred brand of paint, we can definitely use it. If not, we will probably use Sherwin Williams' interior and exterior paints. We will also apply multiple coats to ensure perfectly even coverage.
Cleanup: Some other contractors leave you with debris to pick up when they've finished. We don't! We make sure the space is clean, leaving just the gorgeous paint behind.
Final inspection: At the end, we will inspect the project with you and check that you are satisfied with how our work turned out. We will correct anything that doesn't look right to you. We are finished only after we get your approval.
Color Consultation Available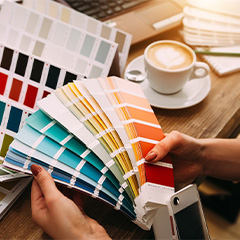 Choosing your color(s) of paint can be challenging to say the least; fortunately, this decision doesn't have to fall to you alone. Here at Platinum Painting, we can arrange for you to meet with a color consultant. This professional can offer industry advice about design and color trends and assist in narrowing down your options to the perfect one for your business. As a result, you're guaranteed to love the results!