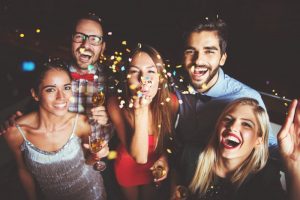 It's almost the most wonderful time of the year, and you know what that means. If you'll be hosting get-togethers or out-of-town guests, you want to make sure that your home is ready to set the stage for a successful celebration. One of the easiest ways to make a big impact on your home's appearance is to change or update the paint on the walls, but does that mean you need to paint the entire house? Absolutely not! Check out these five interior painting tips that can help you create the atmosphere you want for your guests this season and beyond.
Make a Good First Impression
When your guests first enter your home, you want to help them feel at ease but also impressed right away. In fact, they should come from the cold outside and feel your home's warmth immediately, setting the tone for your celebrations together. Try to pick a cheerful color that helps you welcome your friends and loved ones for the holidays.
Prepare the Guest Bathroom
Although you may not initially think of the bathroom as an important room to spruce up, your guests will likely spend part of the time in there. It's an easy opportunity to wow them and to have fun with creative, unique paint choices.
Brighten the Kitchen
Food plays a central role for many celebrations during the holidays, so your kitchen can easily become a hub of activity. Whether you want to paint the cabinets or just the walls, a fresh look for the kitchen can give your guests another amazing space to enjoy delicious food and conversation.
Choose Holiday-Friendly Colors
Although your holiday décor shouldn't dictate the colors you choose for the walls in your home, you should at least consider them when selecting your color schemes for general living spaces. After all, you wouldn't want to create visual dissonance for your guests. It's worth taking the time to make sure that the holiday colors you love complement your paint choice.
Partner with an Experienced Painting Company
Taking on any of these painting projects can be stressful if you try to do it alone. That's why you need to work with a painting company that places you as their highest priority. Not only can they get the job done sooner, these professionals can give you flawless results that will stand up to the inspection of even the most critical in-law.
By implementing these tips and making the perfect backdrop this holiday season, you can focus on creating memories and enjoying time with those who matter most to you in a comfortable, beautiful space. You only have a few more weeks left, so start your painting projects now!
About Platinum Painting
Since opening for business more than a decade ago, Platinum Painting has painted over 10,000 homes in North Texas. Founded, owned, and operated by DFW residents Karl and Marjorie Pickens, Platinum Painting offers a free, in-person estimate and a complimentary color consultation to ensure that customers love the results. To schedule your free estimate before your holiday guests arrive, click here.