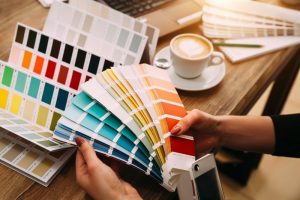 After the holidays have passed, the remaining winter can feel like it's going by slowly. The cold weather can keep you pent up in the house and give you a case of cabin fever. Instead of letting all that restless energy go to waste, turn it into something productive! There's nothing like celebrating the new year and your new intentions and goals with an exciting project that symbolizes all of the change in your life. Interior painting during this time of year is just what you need!
Avoid Being Idle While You're Off Work
Between bad weather days and the time you'll be off work for the holidays, sitting around the house can make you feel restless and unproductive. Instead of wasting your days off, why not start choosing a new color to paint your room? Be sure to plan ahead by getting all of the swatches and contacting your local professional painter for an estimate before all of the bad weather hits!
Hire Professionals For Less
Professional contactors are significantly less busy in the winter during the warmer seasons, which can mean that they're less expensive to hire. Sometimes, you can even get your house painted during winter for nearly half the cost! Plus, because they'll be less busy, they will easily be able to work around your schedule.
The Paint Will Dry Faster
One great benefit to winter interior painting is that your walls will dry significantly faster compared to the spring or summer. Warmer weather typically sparks humidity, which lengthens paint's drying process. However, when you ventilate your painted room with dry and cold winter air, you won't have to worry about having wet walls for longer than you thought.
Since You're Up Earlier, Take Advantage of the Light
Since the sun rises earlier in the winter, you're most likely up at an earlier time. To take advantage of the extra morning light, start planning your new interior paint job. The beautiful morning natural light can help you determine the perfect color, decorations, and accents to add to your room, so it turns out exactly as you'd want it.
Start the New Year With a Refreshing Change
You're likely familiar with the phrase "new year, new you." There's no better time to celebrate all of the changes ahead of you with a fresh coat of paint. After the holidays, the winter can seem bleak and boring. Instead of letting the season get the best of you, become inspired by a new change of scenery in your home.
The best time to paint inside your house is now! Even though it doesn't seem like it, winter is one of the perfect seasons to refresh, renew, and press restart on your life, including the interior of your home. With these five reasons, there's no reason why you shouldn't be picking up the phone to schedule a free estimate now!
About Platinum Painting
Platinum Painting has been serving the North Texas area for over a decade. We are locally founded, owned and operated, which makes us committed to providing our fellow community members with premium interior painting results. Whether you're looking for interior or exterior painting, or to remove outdated features like popcorn ceilings and wallpaper, our team of trusted professionals is here to help! To schedule a free in-person estimate, visit our website or call 817-380-4404.