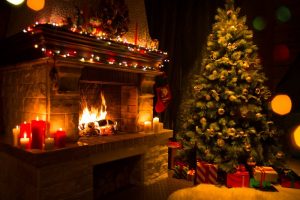 As the holidays are approaching, you're likely going to have more friends and family coming by to visit as well. If you're the type who gets excited to show of your decorations, whether they be for Halloween, Christmas, Thanksgiving or Hanukah, nothing says "wow!" like a fresh coat of paint!
If you're the type who enjoys decorations, you're probably already thinking of some ideas. From one visionary to another, here are three ideas to get you started for your next interior painting project!
Start with the Entryway
The entryway does more than just act as a starting point for your home. It provides a first impression to all your guests. For this reason, making sure this area is decked out will make a big difference. Instead of walking into a pretty typical entryway to hang up their coats, your guests can soak in what's to come based on this room alone. If you intend on painting the entryway, make sure that the rest of your home fits in as well.
Using a white base is ideal if you intend on letting wall decorations or garland wrapped around the banister of your stairs take up most of the attention. However, using a deep red can help contrast green decorations as well. Just make sure that it's a color that can work as a proper accent year-round.
Change Up Your Bathroom
When we think of interior decorating, especially around the holidays, our first thought doesn't usually go to the bathroom. However, you'd be surprised by how much of a difference it can make in tying your whole home together. Not only can painting your bathroom stand out to your guests, but it takes a relatively short period of time to complete.
Keep in mind that just because you paint one bathroom a snow white, soft pink, cheery red or subtle gold, doesn't mean you have to paint all your bathrooms this color. In fact, it's actually better to focus on one bathroom, whether it be the one closest to the living room or your designated guest bathroom. Take the opportunity to get creative as there is much less risk involved when painting a smaller room.
Make Your Kitchen Shine
When you think of the holidays, which room do you think you'll end up spending far more time in with guests around? If you said the kitchen, you're right! Whether it's for Thanksgiving or Christmas, guests are going to want to make every excuse to take food from the kitchen before dinner is ready.
So, why not give your kitchen a bright new color to inspire your cooking? A hale navy, red geranium, glossy black or midsummer night all work to complement your home's decorations while still looking good year-round!
Ready to impress and inspire your friends and family this holiday season? Schedule a consultation with a painting company for more advice!
About Platinum Painting
If you aren't sure which colors to paint your interior, don't worry. The idea guys at Platinum Painting can send a color consultant to your home to plan your next project for you. They can also repaint interior walls, remove dated wallpaper and even stain and paint your cabinets! To get a free estimate, you can contact them through their website.