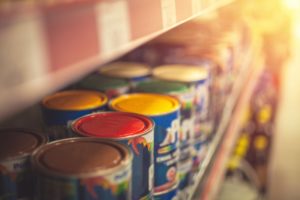 Every day, you make millions of little decisions from which shirt to wear to what to eat for breakfast to which street to take to avoid traffic on your way to work. While some of these choices may be inconsequential, others are far more important and can be more difficult to make. As you stand in front of all the different kinds of paint at the store, you easily become overwhelmed. Who knew there are so many different shades of white! And how do you know the gloss you should select?
You may be tempted to grab the first can of paint you see and leave as soon as possible, and you may be wondering: is there really a difference in interior and exterior paint? Paint is paint, right? Wrong! Read on to learn what makes each type unique and perfectly designed for these environments.
Special Features of Interior Paint
Inside your home, where you shouldn't have to worry about the elements, paint needs to stand against bumps, scuffs, and occasional scrubbing. Although interior paint can come in a variety of glosses and sheens, interior paints in general are formulated to be durable for everyday life—since these are the spaces where you and your family spend most of your time when you're home.
Special Features of Exterior Paint
Unlike interior paints, exterior paint is created with the outdoors in mind. This means that this type of paint has the flexibility to expand and contract with hot and cold temperatures. It also contains additives that prevent mildew by resisting moisture. In addition, exterior paints are designed to withstand UV light, preventing fading over time.
Why You Can't Use Exterior Inside
Because exterior paints are specifically made to be outside in the wide open air, it is more acceptable when their solvent gasses evaporate into the air. In a confined space, such as the inside of your home, these solvents would be much more noticeable and possibly unhealthy for you and your family.
Why You Can't Use Interior Paint Outside
Additives that make interior paint scuff-resistant also make it rigid, which can lead to cracking and peeling with the changing weather. Plus, without protection from UV rays or moisture, fading and mildew become more of a concern much sooner.
Although you'll still need to pick the exact shade you want for your paint, one choice can stay simple: choosing between interior and exterior. Take advantage of the innovations in painting materials so that your paint job can last and continue to look amazing for a long, long time!
About Platinum Painting
Platinum Painting has been serving homeowners in the DFW area and throughout North Texas for more than a decade. We specialize in residential painting, which means that there's not interior or exterior surface that we can't handle. Although we can customize to your preferred brand or store for paint, we typically choose Cashmere Interior Acrylic Latex and SuperPaint Exterior Acrylic Latex paints for the best results. Contact Platinum Painting to learn more about these paints or to schedule a free in-person estimate!