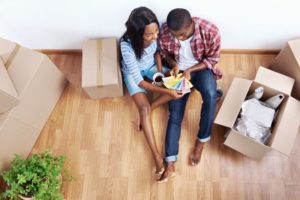 Are you looking to spruce-up the interior or exterior of your home with a fresh coat of paint but aren't sure what to look for in the perfect product? Many homeowners aren't aware that color isn't the only choice you need to make before packing your purchased paint in your car and heading home. Instead of standing in front of a wall of swatches wondering how you pick out paint for your home, you can read on to learn about the three most important factors to take into account while shopping.
Interior vs. Exterior Paint
Many people don't know that the difference between interior and exterior paint is drastic. Paint that's placed outside has to be flexible enough to withstand drastic changes in temperature, contact with direct sunlight, and weathering. With a durable exterior paint, you can avoid cosmetic flaw development, such as peeling, chipping, and fading.
Interior paint is more rigid because it won't need to expand and contract since it's not going to be exposed to regular temperature changes. In addition, the more rigid binding resins allow indoor paint to be more resistant to scuffing and wear-and-tear.
Choosing the Sheen
There are many different paint sheens to choose from, depending on what room you'll be using the paint in and how high of traffic that area has. Typically, the shine of a paint can be placed on a scale from the lowest sheen, flat, to the highest, high-gloss enamel. Here's what the different types are used for:
Flat is a paint with low sheen that is ideal for ceilings and low-traffic areas.
Matte paint has a low luster, slightly reflective finish that can hide minor imperfections. It's ideal for low to moderate trafficked rooms.
Eggshell is a mid-sheen paint that is great for moderately trafficked rooms.
Satin has a shinier appearance ideal for high-moisture areas, like kitchens, because it's easier to clean.
High-Gloss Enamel has a glass-like, shiny finish that is a good choice for very high-use surfaces.
Eggshell is a popular middle-ground sheen that is versatile and can be used in a variety of different areas of the house. If you're having difficulty deciding which sheen to use, don't hesitate to ask your paint contractor for some advice!
Picking The Best Color
Finally, when you're picking out the color of your paint, it's important to consider the permanent fixtures, such as furniture and curtains, or window shutters if you're painting the exterior of your home. Try to choose one that fits your personal taste, but also doesn't clash with these features, causing you to dislike the final product!
If you have any questions throughout the process of choosing paint, don't ever hesitate to reach out to your contractor to get their input. They've been painting residential homes for years and can offer a seasoned opinion.
About Platinum Painting
At Platinum Painting, we provide a variety of home-improving services, including interior and exterior painting, to help boost its value or provide you with a much-needed transformation. We're proud of the thorough and high-quality results that we achieve, which is why we also offer a satisfaction guarantee! If you have any questions throughout the process, our team of experienced painters will be more than happy to help, so you can achieve your ideal results. For questions or to schedule a free estimate, visit our website or call 817-380-4404.