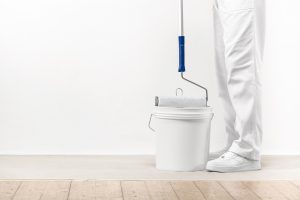 We'll admit it's not easy to know how to hire a painting contractor. But if you're on the market for a painting company, you need to make a well-informed decision — your house, and often your sanity, are at stake. Don't rush into things when you're deciding how to hire someone to paint your home. To help you prepare for your decision, we've compiled a list of the most common problems with painting contractors, and how you can avoid them.
Whether it's an interior painting company or an exterior painting company you're looking to hire, here's what can go wrong with contracting a painting company.
#1: You Hire Someone Who Doesn't Care
It's one of the most common problems with hiring a painting company. Anyone can call themselves a painting company — it just takes a little signage and the basic materials. Unfortunately, if you hire someone who doesn't have much experience or who is just looking to make some extra money on the side, you may be putting your home at-risk of sloppy, careless painters.
#2: The Price Suddenly Increases
No matter what the job, it's all-too-common for contractors to "unexpectedly" need to do extra work. They'll finish halfway and claim it can't be done without more paint, supplies, etc — and it always comes at extra cost to you, no matter what you verbally agreed to before the job started.
#3: Your Contractor Cuts Corners
We've all seen a cheap paint job — a wall that looks like it could use an extra coat (or three). This effect is often caused by diluting the paint to make it last longer, something you certainly don't want your contracting company to do. Unfortunately, it's not rare in the world of professional painting.
Avoiding These Common Problems
Now that you know what could happen when you're choosing someone to paint your home, you're probably wondering how you can avoid these and other issues. We've written extensively on the topic — take a look at this recent blog post on selecting a contractor for a more in-depth explanation.
The basics of selecting a good painting contractor include:
Asking for references. Do your research beforehand, and ask your potential painting company if they can provide references who will speak to their work. If they are reluctant to share names and numbers, or if they don't have anyone at all, keep looking.

Agree to a contract beforehand. Make sure you get an outline of the work that will be performed in writing beforehand — that will help to avoid any last minute "surprises," like extra paint or more supplies.
Platinum Painting has been improving homes in Plano and surrounding areas for years. Why don't you call us to discuss your interior or exterior painting project? We can provide you with a free quote when you do. Contact us today!