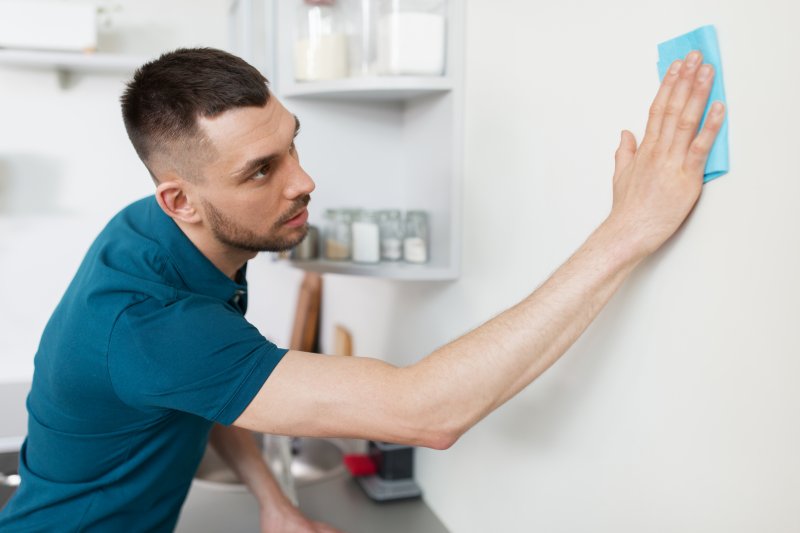 Do you take pride in keeping your home neat and clean? If you want your space to look beautiful at all times, you likely clean your walls regularly. You might even do it more than the average person if you have kids or pets. Of course, proper maintenance is essential to create a healthier environment for your family. In this blog post, we'll explain how to properly clean your walls to keep them looking gorgeous!
Dust Before Cleaning
Before cleaning your walls, you should thoroughly dust them from top to bottom. Use the broom to reach the top molding and remove cobwebs! You can do that by simply putting a cloth on top of the broomstick. If your walls need some extra love, consider using a vacuum with a brush attachment.
Keep the Finish in Mind
Have you noticed any differences in the paint finish with the walls in your home? Some rooms may have more of a matte finish, while others (like the kitchen) may seem shinier. You should figure out what type of finish the area you're working on has to ensure you're using the right cleaning technique. Otherwise, you could accidentally remove paint in the process.
Spot-Test Your Cleaning Solution
Make sure your cleaning ingredients are safe and gentle! Because some products could be too harsh for your walls, you should use warm water and dish soap. Once you have your solution, do a quick spot-check on a hidden area of your wall, like behind a painting or a piece of furniture. If it streaks or stains your surface, it's too harsh.
Use the Right Technique
Aren't sure if you're using the right cleaning technique? Here's how to clean your walls properly:
Gather your materials (i.e., two buckets, soft sponges, dry microfiber cloths)
Fill one bucket with warm water for rinsing and the other with your wall cleaner
Start cleaning at the top of the wall using light, circular motions and slowly work your way down
Work in sections to prevent discoloration
Wash the wall with your cleaning solution and wipe off the residue with a sponge dipped in your rinse bucket
Dry the wall with your microfiber cloth and move on to the next section
Do Regular Maintenance
It's good practice to deep clean your walls every now and then. However, you can keep them in pristine condition with routine maintenance. For instance, regularly dusting the walls, spot cleaning, and focusing on high-traffic areas will help your home stay in top shape.
If you're thinking about cleaning your walls, make sure you review the tips outlined above. Following them will make your interior paint look fresh, clean, and brand-new once again!
About Platinum Painting
At Platinum Painting, we offer quality and personalized services to homeowners throughout the DFW metroplex. Our skilled team will always go above and beyond to give you exceptional results you'll love. After interior painting, we'll explain how you can preserve your home's beautiful appearance to ensure it lasts as long as possible. To learn more about our services, visit our website or call our office today.