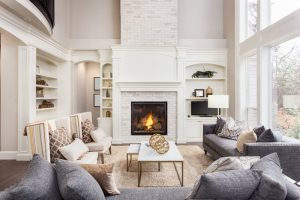 When you think of a fireplace, what does it remind you of? Do you think of winter nights spent with the family in your living room watching television? Is it the smell of wood burning, making you feel like your in the woods at a campfire? Or, does it remind you of a part of your home you wish you could just cover up?
Your fireplace doesn't have to be an eyesore anymore when you give it a fresh new look! Consider these tips from a painting company in Plano!
Determine the Fireplace's Role in Your Room
If your fireplace looks outdated or doesn't quite match the room, you'll probably want to paint the surrounding brick a color that blends in with the walls. Choose a shade that either matches the walls or comes very close to matching them. Make sure that the shade is similar to the trim as well to make it virtually disappear. You can also paint the mantel to match the walls and ceiling for more blending.
Alternatively, painting the fireplace a color that contrasts with the walls can make it pop. Be sure to take the surrounding furniture into consideration as well when choosing your color. For a mostly white wall, painting the fireplace charcoal helps create a focal point in the room, but you can just as easily use brown or gray as well. You can also paint the mantel black and the brick around the fireplace white to create varying levels of color.
How to Paint the Brick
Unlike walls or ceilings, brick is much more porous and therefore requires different preparation steps to paint properly. Start by examining your brick closely, checking for large cracks in the mortar. If you notice large deposits of salt, also known as efflorescence, you'll need to remove it first. This also goes for any dirt or other debris.
Use a stiff-bristled brush and hot soapy water to wash the brick. If this isn't enough to remove dirt or salt deposits, you can also mix half a cup of trisodium phosphate and a gallon of water to make a stronger cleaning mixture.
Never use acidic cleaning agents to clean brick as it can cause the paint to chip. Also, make sure the brick is completely dry before applying any paint. Drying will take at least 24 hours.
The Proper Steps for Preparation
Once the area is dry and you've filled any cracks with acrylic caulk, place tape around the surrounding wall and place a drop cloth to protect your floor. Then, apply a layer of latex or latex-acrylic primer to the brick. Each layer of primer requires extensive drying before you apply another layer. Use a semi- or high-gloss finish to highlight the brick's texture as well.
Want a professional's advice and help for painting your dated fireplace? Schedule a consultation with a Plano painting company to learn more!
About Platinum Painting
The team at Platinum Painting only focuses on the interior and exterior of residential homes. Not only will you get a great result after your paint job, but valuable advice on making your home look beautiful to guests and your family. To get a free quote for your next home designing project, contact the Idea Guys through their website.