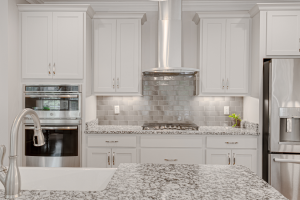 The kitchen is often considered the heart of the home—a place where families gather, friends chat, and culinary masterpieces are enjoyed! But when it comes to designing a dream kitchen, a lot of homeowners are stumped concerning which color scheme to select, especially if they're working with a space that includes numerous stainless steel appliances. Fortunately, stainless steel can be paired beautifully with a variety of colors, allowing you to create a modern, sleek, and inviting space! Continue reading for some paint color scheme options worth considering.
Option #1. Classic White
White kitchens are a timeless choice, and they work exceptionally well with stainless steel appliances. Crisp white walls provide you with a clean backdrop to work with that can accentuate the modern appeal of the stainless steel. Additionally, white reflects light which can help make your kitchen feel brighter and more spacious.
Option #2. Earthy Tones
Earthy tones like different shades of brown, gray, and other similar colors can all be effective. For example, choosing a dark brown hue for cabinets will create a warm and cozy vibe when coupled with stainless steel. You might consider complementing it further with hardwood flooring. You can also consider black; it's a practical, mainstream color that can make stainless steel pop when applied in large or small amounts.
Option #3. Bold Colors
Deep blues like navy and royal, rich greens like sage or emerald, cherry red, or even canary yellow are exciting, bold, and brash options, and each can be paired with stainless steel appliances. One great way to implement these colors is by utilizing a tiled backdrop; these are quite customizable and allow you to work with many different colors at once!
Option #4. Calm Colors
Cool blue tones, such as soft aqua or pale turquoise, or even shades of green such as sage, can add a refreshing touch to your kitchen if it's filled with stainless steel. These colors evoke a sense of calm and tranquility, making your space feel serene and inviting.
One last thing to keep in mind, regardless of which color scheme you select, is the influence that light has on paint. Be sure you're testing paint samples against sources of natural and artificial light before committing to something—even if it looks great with the stainless steel, lighting has the potential to make things look different.
About Platinum Painting
Platinum Painting has proudly assisted homeowners all across the DFW metroplex for over 15 years, offering expert guidance and quality results for all sorts of painting projects. If you have any questions about the blog or you'd like to set up a FREE in-home estimate, feel free to contact their team for additional information or assistance.