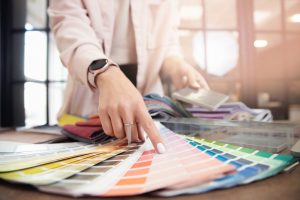 You stand frozen in front of hundreds of color swatches. How can there be this many shade choices for one color? Overwhelmed by the number of options, you finally pick one out randomly and call it "good enough" just so you can leave.
Picking paint colors can be more challenging than you might initially think. It's a big decision, and unfortunately, if you choose poorly, you'll regret it every time you walk into the room. That's why you really should consider working with a color consultant. Keep reading to learn how this professional can help you achieve the look you want without getting bombarded by the number of options for house painting.
Design Industry Knowledge
It seems as though designers change their minds all the time. To stay on top of it all, you'd have to read countless magazine articles and blog posts and learn how to combine colors, which you probably don't have the time for. A color consultant stays abreast of trends in the industry for their job! They know what designers are pushing right now and which color trends are going to stick around. Plus, they can help you have a clearer idea of how to make a whole room come together.
Saving You Money
Most home projects involve a big investment and cost a pretty penny. The last thing you want to do after paying for improvements is to realize you don't like it and pay again until you get what you actually want. Meeting with a color consultant can save you the expense of rework by helping you make your final decision.
In addition to having the consultation, you should plan on scheduling it early on in your designing and decorating process—perhaps before you purchase furniture or pieces that will go in the room, just to make sure it all comes together the way you envision it in your head.
Saving You Time and Stress
Before you take the time to go through a home improvement project, wouldn't you want to know that you'll love the results? Having confidence prior to starting can not only save you the trouble of having to redo the work, but also help you enjoy the process more. A color consultation can spare you the anxiety and uncertainty that come along with changing the color of the walls. Rather, you can sit back and watch the transformation take place and watch your design dreams become a reality.
Ultimately, you still have to make the final decision; however, getting a professional's advice and guidance can help you feel more secure in your choice and help you get the paint colors right the first time.
About Platinum Painting
Owners Karl and Marjorie Pickens have held Platinum Painting to a high level of customer service since the company began in 2008. In fact, we has been ranked #1 on Angi (formerly known as Angie's List) for North Texas for nearly a decade. We proudly serve homeowners throughout the DFW area and put our customers first at every step of the project from beginning to end. If you would like to meet with a third-party color consultant, we can help you arrange it. Just contact our Customer Care team here!