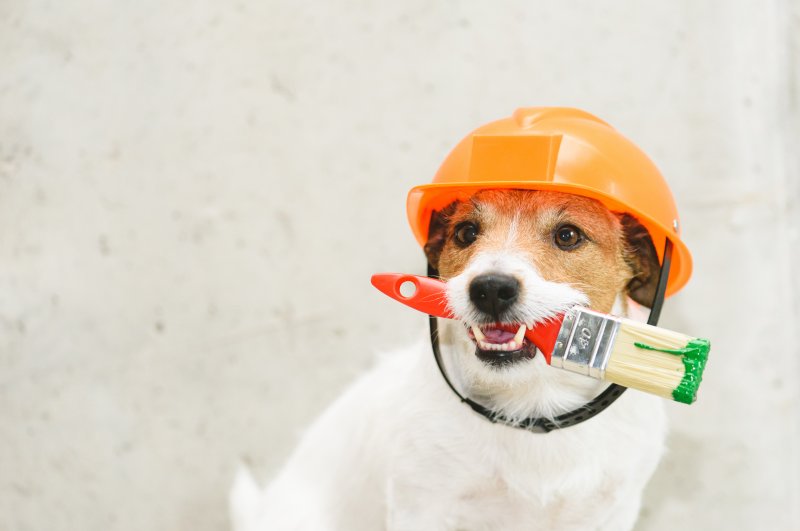 Do you have one or more furry friends in your life? If so, you know from firsthand experience how a pet can make your home a lot messier, especially when it comes to painting. For that reason, you may think there's no point in starting a new interior painting project. Rest assured – you don't have to live with smudges and scratches in your home forever! Read along for a few painting tips to make your home look beautiful while keeping your beloved pets safe.
Choose a Toxic-Free Tint
While choosing the perfect paint color for your living room, make sure you check the label and select a product that's non-toxic. Even though formulas with natural ingredients (i.e., water, plant dyes, essential oils) are great, they're usually not pigmented enough to produce a vibrant final product. If you need help finding a good brand, we recommend the BEHR Premium Plus line because it has no volatile organic compounds (VOCs), meaning it'll emit little to no harmful fumes.
Make Sure Your Paint Color is Stain-Proof
Once you find a toxic-free tint, your next step is choosing a color that's stain-proof. Keep in mind that bright colors like red, blue, and green show smudges. If you want a darker more classic look, we recommend neutral shades like charcoal, olive, or brown. Since most scratches and smudges blend in, it'll uphold a cleaner look for much longer.
Select the Right Sheen
Don't forget to consider the finish when making your paint selection! Before purchasing your favorite color, check the label to ensure it's a lower-sheen finish like satin or semi-gloss. They have just the right amount of luster to deflect smudges that come from your pet. Also, flat paint is much more difficult to clean and touch up.
How Can You Maintain Your New Paint?
Now that you've chosen the perfect blend, color, and sheen, you're going to need to learn how to keep your walls looking their best. No matter what you do, pets will always find a way to scratch or smudge your newly painted walls. Fortunately, there are multiple touch-up kits and paint solvents available that helps treat these issues specifically. In just a few swipes, professional cleaners can cut through grime and dirt with ease, making your home look brand-new!
Before picking up a paintbrush, make sure you review the tips outlined above to keep your home disaster-free. That way, you can maintain a stunning place that you and your pet can enjoy together!
About Platinum Painting
At Platinum Painting, we're committed to the satisfaction of every homeowner. Our team is highly knowledgeable in all types of paint, meaning we can help you make the perfect pet-friendly selection for your home. For a free estimate, visit our website or call (817) 380-4404.