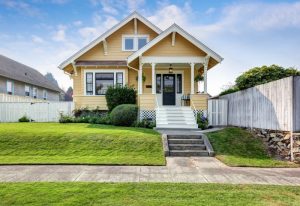 Whether you've been living in your home for awhile or just bought a new house, exterior painting can help give it new life. Choosing colors that best fit your personality and the landscape that your home is placed in can make you feel proud pulling into your driveway every day after work. However, if you do it incorrectly, you may end up with more additional work than you bargained for. Read on for four exterior painting tips to be careful to avoid.
Unwanted Drips, Splatters, & Spills
It's easy to forget key preparatory steps of the exterior painting process if you're not a professional. Not covering and protecting the surrounding areas that you don't want to paint can lead to unwanted and unintentional drips, splatters, and spills that you'll need to correct after you're done.
It's important to be sure to buy supplies to cover the ground as well as nearby bushes, plants, and fences before you start painting. However, don't leave a tarp over live plants for too long, because it could smother or squash them. Be sure to also cover any outdoor outlets or light fixtures. Another good way to avoid drips is to start at the top of your house and work your way downward. That way, if any drips do occur, you'll fix them as you make progress.
Moisture Seeping Behind Painted Wood
If your house is older and has any type of wood paneling, it's important to correct sources where water could get trapped underneath before you paint. If you don't, it could cause the pain to blister or peel, undoing all of your hard work and wasting expensive paint. This typically occurs near windows and doors. You'll also want to inspect splits and cracks in your siding and correct these with special paintable acrylic caulk.
Applying Latex Paint In Extreme Temperatures
Many people who aren't professionals aren't aware that certain paints need to be applied in the right weather conditions. For example, when you apply latex paint in cold weather, it won't properly dry on the house. On the flip side, if it's too hot, it can shorten the lifespan of the paint film. Without the background knowledge of how certain types of paint are impacted by certain weather and temperatures, you could be taking a gamble on the quality of your exterior paint job.
Not Consulting With a Professional Painting Company
All of the mistakes listed above can be made when you don't consult with a painting company before you begin your project. Speaking with experienced painters who know all of these details can help you save hundreds of dollars in the long-run by ensuring that the job will be done correctly the first time around.
About Platinum Painting
Whether homeowners are looking for professional interior or exterior painting, wallpaper removal, or popcorn ceiling removal, we do it all. Our team of professionals works quickly and thoroughly to ensure that our paint jobs last long. We work closely with homeowners and can even  provide them with guidance on color selection along the way! For questions or to schedule a free estimation, visit our website or call 817-380-4404.