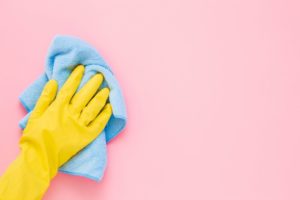 After years without being repainted, are you beginning to notice that your walls are beginning to look a bit grimy and dirty? Certain types of paint are easier to wash than others, which is why it's a good idea to consult with a professional before you start cleaning your walls to learn whether it's safe to do. Read on to learn what interior painting is safe to clean and how you can spruce up your home with a fresh and easy-to-clean coat of paint.
What Types of Paint are Easy To Clean?
Rooms that get used regularly and have higher traffic can benefit from a coat of fresh paint that's easy to clean. These are usually high or semi-gloss paints that are durable. Although these won't be aesthetically forgiving when it comes to cracks, mail pops, and other home issues, they can do wonders when it comes to making a space look clean and have a high impact because it reflects light. For people wanting a similar effect, but with less of a glossy look, semi-gloss paint is also another durable and easily cleanable choice.
Can You Wash Painted Walls?
The durability of your paint is a key factor to consider before you begin washing your walls. Glossier paints are typically more resilient because they're not as porous, which means that you're less likely to damage the coat by scrubbing them. However, more matte and flatter paints can easily become damaged if you begin cleaning them.
Eggshell and satin sheens, which are in between matte and high-sheen paints are commonly used for interior painting. While these have some durability, they don't always stand up to cleaning. That's why it's a good idea to test a small portion of your wall in an unnoticeable spot, such as in the back of a closet, to see if the paint holds up. If it maintains the same results as before you scrubbed it, then you can clean any dirty-looking areas of your home. Otherwise, it's a good idea to look into repainting high-traffic rooms with a more durable and easy-to-clean paint.
How Do You Wash Walls?
Once you determine that the paint on your walls will stand up to scrubbing, be sure to dust all of the areas you're going to clean by using an attachment on a vacuum or a microfiber cloth that traps fine dirt and dust particles. Next, lay towels on your floor and along your baseboards to protect them from any drips. The gentlest cleaner to use on walls is water, if you need something more effective, you can also use a mixture of warm water and dishwashing soap. After you scrub, be sure to thoroughly dry the area with a cloth to prevent any streaking and water damage.
If your walls are beginning to look dirty, it's a good idea to consult with a professional interior painter before you begin cleaning them, because it may just be time to repaint your home. This way, you will be able to choose an easily cleanable sheen for the future as well.
About Platinum Painting
At Platinum Painting in the DFW area, we provide local homeowners with high-quality interior and exterior painting so they can make their house feel more like a home. Because we focus on residential painting, we're able to be specialists in a single market, allowing us to satisfy all of the individual needs of our homeowners. For questions or to schedule a free in-home estimate, visit our website or call 817-380-4404.