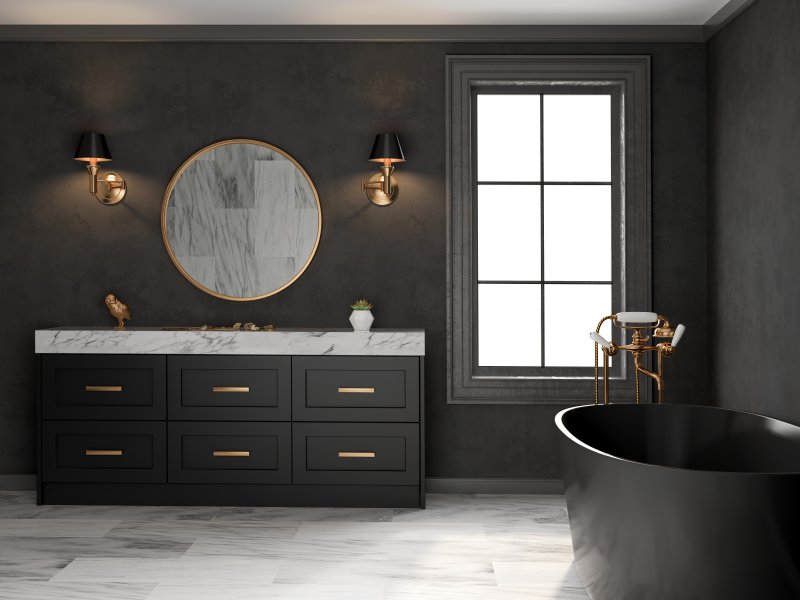 Want to know what one of the hottest interior painting trends are? Painting your walls black! It's a quick, easy way to update your home interior and create an elegant aesthetic. Although black paint is a bold statement, it's also a classic color that complements many types of furniture and décor. It may initially seem intimidating, but there are many tricks you can do to make the painting process easier. With that in mind, here are a few helpful tips on how to paint your walls black.
Carefully Choose Your Surfaces
First and foremost, you'll need to choose which surfaces you want to paint black. It's incredibly important that you take your time with this step as choosing the wrong areas can make your room look overly dark or uninviting.
If you don't want to paint your entire room black, you can always just do an accent wall. It can be any wall, but ideally, it's best to choose the tallest one in the room. One dark accent wall paired with three lighter walls will make the room seem more spacious. Additionally, black is an excellent choice for an entire hallway or a powder room. Just make sure you paint the baseboard and trim a lighter color to create much-needed contrast.
Select the Right Black Paint & Sheen
Now that you know which surfaces you want to paint black, you can move on to the next step – choosing the right paint and sheen. Believe it or not, there are two different types of black paint. Cool black paints contain blue or violet undertones. They're an excellent choice for interior trim and doors. Warm black paints contain brown or true black undertones and are extremely versatile. They're great for accent walls, trim, or even cabinetry.
Don't forget to choose your sheen carefully! Although matte black paint may look best, it's not as durable as eggshells or satin blacks. That means it won't work well in a kitchen, child's room, or other highly trafficked areas.
Pay Attention to Lighting
Since black paints absorb light, you'll want to make sure the room you're painting is well-lit. Otherwise, the room may feel constricting and boxy rather than cozy. Make sure the room gets plenty of natural light or has proper light fixtures. If your room doesn't have windows, you can always add overhead lights, wall lights, and floor lamps to the room for more lighting.
Balance with Lighter Décor
You can make your space look more cohesive and inviting by choosing the right décor, furniture, and accents. One way to help your decorative elements work with black walls is by choosing contrasting colors to offset the dark hues (i.e., bright throw pillows, a bold sofa, a cream headboard, white picture frames). These elements will help your room feel lighter, airier, and cozier.
Do you want to paint your interior walls black? It's always best to call in the pros for help. They'll use the proper tools and techniques to give your home the flawless, lasting finish you deserve!
About Platinum Painting
At Platinum Painting, we want to help create a comfortable, welcoming atmosphere for your home. Our highly skilled and dedicated team will go the extra mile to ensure you receive the results you're looking for. If you want to paint your walls black, we have the tools and skills necessary to make your vision come to life. For a free estimate, visit our website or call our office.