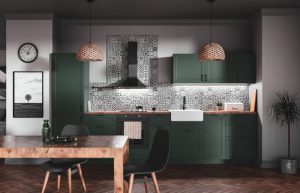 As 2021 draws to a close, if you're like most people, you want to leave the past behind you and look ahead to more exciting and positive things to come. At the beginning of this new year, you may want to have a fresh start for your home as well. If you're looking to paint your home in 2022, you should definitely check out these interior paint color trends that have designers buzzing!
Green, Green, Green
Regardless of the brand, nearly every paint company has named some shade of green as their color of the year. From a more subdued olive green to a brighter avocado green to the still popular light mint green, paint designers are in love with this nature-inspired dreamy color, and right now you'll find many even recommending painting kitchen cabinets gray-green as well as other green shades.
Natural Color Palettes
Although green is the main attraction for 2022 paints, other soothing natural colors are also going to be especially favored this year. Grayish blues and blue-greens are becomes favorites to create a relaxing, comfortable space. As a result, even if you have to spend a lot of time inside, you can still feel at ease with natural tones inside your home.
Distinguishing Spaces with Color
If you worked from home during the pandemic, you likely faced the same struggle as many other people—making a home office space. Even if you don't have a separate, dedicated room to work, you can differentiate this area from others through color. After all, color can help set the tone of the room and influence your mood. To keep yourself motivated, yet calm, you can utilize a creative green or other inspiring color for your work space.
Clean, Timeless Colors in the Kitchen
The kitchen is one of any home's most important rooms, and it can get a little messy there sometimes. With a classic white, citrus color, or blue, the room can always feel fresh and light. If you want to be more adventurous, you could choose to have a timeless color on the walls and a bolder color for the cabinets, such as the avocado green mentioned earlier.
Although you may not know what 2022 may bring, your home can give you a relaxing, soothing environment to go back to and recharge. By considering these popular paint trends, you can make sure that your retreat provides a fresh start whenever you walk in!
About Platinum Painting
Throughout the Dallas-Fort Worth area, Platinum Painting has helped tens of thousands of North Texas homeowners achieve their design dreams. Unlike many other residential painting contractors, we guarantee complete customer satisfaction with the quality of our work, and we are fully insured to protect everyone involved in the project. Would you like to take advantage of a free in-person estimate? Contact Platinum Painting today!