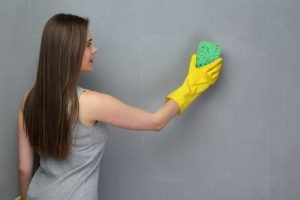 You're tired of your walls looking dingy. Maybe they have even endured a couple of kids' messes over the years. In any case, they need to be cleaned, but you don't want to risk damaging the walls or the paint finish. How should you go about cleaning the walls properly and safely? Read on to find out!
Dust First
A good portion of what you're cleaning on your walls consists of dust and dirt that can be easily removed without a cleaning solution. Before busting out a bucket and rags, put a clean cloth on a broom and dust the walls first. That way, you'll be able to target the more difficult grime with the cleaning solution.
Keep the Finish in Mind
If you take a close look at the walls throughout your house, you'll likely see that some differences in the finish. Some rooms, such as bedrooms, may have a more matte finish, while others, such as the kitchen, may seem more shiny, semi-gloss finish. Knowing the finish of the paint is essential, or you could end up taking paint off the walls.
Use the Right Cleaning Solution
Although there are plenty of products out there that can remove grease, many of them are too harsh for walls. Instead, just use warm water with dish soap and a sponge. It takes off the grime without taking the color off as well.
For stubborn stains, such as red wine, you'll need to use hydrogen peroxide. Pour some onto a clean cloth and gently press it into the stain. Hold it there for about 5 minutes. The stain should come out with a wipe of a damp cloth.
Test the Area
Before you go all in cleaning the walls, it's a good idea to test out your cleaning solution on a small spot. Choose a more hidden area, such as behind a painting or a piece of furniture and test out the solution. Double checking like this gives you the confidence that you aren't going to damage the paint or the wall.
Think Safety
If you're cleaning light switch plates or outlet plates, where a lot of grime and dirt can accumulate, you may want to turn off the breaker for that part of the house. Also, make sure you don't have a lot of water on your sponge or rag. Otherwise, you run the risk of potential electrocution.
Wash with Gentle Circular Motions
Even with more durable finishes like gloss or semi-gloss, you usually don't have to scrub hard to clean the walls. Use gentle circular motions instead, and make your sponge or rag damp, not sopping wet, to avoid bubbling and watermarks.
Do Regular Maintenance
Although you should do a deep clean of the walls every now and then, keeping the walls looking their best entails little things you can do on a regular basis. For instance, you can regularly dust the walls, spot clean, and focus on high traffic areas.
If you follow these simple steps, you can make your rooms feel fresh and welcoming. Cleaning the walls can help you remember why you chose those colors in the first place and help fall in love with your home again!
About Platinum Painting
Platinum Painting began in 2008 when homeowners Karl and Marjorie Pickens couldn't find residential painters to meet their needs. With their team, customer service is always the top priority at every stage of a home project. If you are interested in painting your house, you can schedule a free in-person estimate by contacting Platinum Painting here.