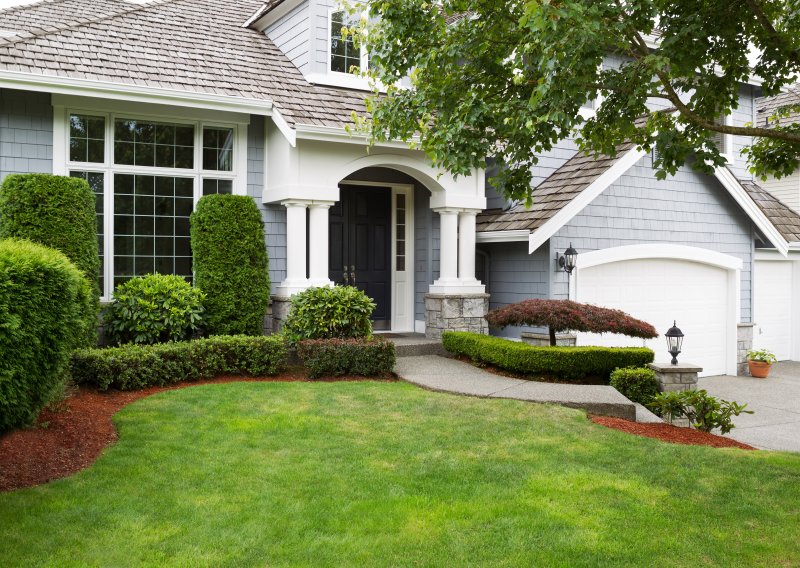 It's officially the new year! Now that we're in 2022, you're probably brainstorming ways you can transform your home and have a fresh start. Well, you can easily accomplish that with just a few coats of the perfect exterior paint color. If you're looking to try something on-trend, we've got plenty of ideas ready for you. Whether you're wanting a quick refresh or a total renovation, here are some of the hottest exterior paint color trends that can give your home the perfect look.
Warm and Welcoming Neutrals
Bright white has become increasingly popular in recent years – and there's a good reason for that. It can completely transform your home inside and out. However, warm off-whites and other cozy colors have recently started to take the world by storm. Benjamin Moore's Color Trends for 2022 Palette is a perfect collection of soothing, subdued hues. The shades range from an earthy taupe to classic soft yellow. An excellent example of a popular white paint color is Sherwin Williams' Creamy SW 7012. The off-white color is fresh instead of blinding, giving your home a classic, timeless look!
Moody Hues
Although black and white palettes are popular, we're going to see even darker exteriors take their place in 2022. To nail the on-trend look, you must find a shade that is striking but can blend into the surrounding environment. An example that strikes just the right balance is Benjamin Moore's Soot 2129-20. It's a bold color, but it's not too heavy. You can even pair it with lighter colors or textures (like wood and stone) to create a warm, inviting look.
Green
Believe it or not, green is not just for landscaping anymore. It's become one of the trendiest exterior paint colors! In 2022, you can expect to see a dark, moody green like Sherwin-Williams' Basil SW 6194 make an appearance in more neighborhoods. If you pair the neutral color with a crisp black and white palette, it'll create a chic, edgy look that's highly appealing for an exterior. However, when you pair the color with more traditional beiges and warm whites, it'll become a naturalistic element in a color scheme that feels more organic and up to date. Some other excellent silvery-green color choices you may like are Benjamin Moore's October Mist 1495 (which is also color of the year) and Sherwin-Williams' Evergreen Fog SW 9130.
The new year is the perfect time to make positive changes. By considering these popular exterior paint trends, you can transform your home into one that looks amazing, stylish, and on-trend!
About Platinum Painting
At Platinum Painting, we understand that exterior painting can be a stressful, daunting, and headache-inducing job. That's why we're here to do the hard work for you. Our highly skilled and dedicated team will use quality paints and stains to ensure the exterior of your home looks stunning and brand-new. For a free estimate, visit our website or call our office.