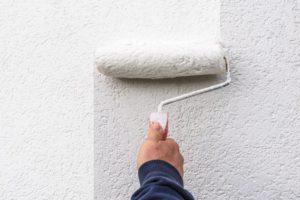 These days, homeowners are concerned—and for good reason—about the materials around them. From organic or responsibly sourced sheets to cleaning solutions that have safe ingredients, people want to know where products come from. In fact, you may be wondering: how is paint made and what goes into it? Fortunately, the time of lead paint is long, long gone. At Platinum Painting, our house painters want to put your mind at ease. Read on to answer your questions about modern paints and learn more.
What Is Wall Paint Made of?
Unless you prefer a particular brand or paint store, Platinum Painting usually sources our paints through Sherwin Williams, who are nationwide specialists in the industry. Over the years, we've established a relationship with this company, enabling us to get high-quality paints for an affordable price. Regardless of the brand, here are some components of paint that you should know about.
Pigment
Simply put, the pigment not only provides the color for the paint, but also the sheen, which can impact the appearance of the paint once it dries. When you select the color of your paint, we make sure that it meets your exact specifications both in terms of color and sheen for a flawless finish.
Solvent
The solvent is the material that allows the pigment and the resin to easily attach to a surface as a liquid. In most cases, our paints use a water-based solvent, which means that these paints are easy to use and quick to dry. Using water as a solvent also makes this product safer for your home.
Resin
Resin is the material that holds the paint molecules together and binds the paint to the surface. For water-based paints, when applied to the walls, the water evaporates, bringing the resin and pigment particles closer and closer until they stick together and form a tough elastic solid.
Additives
Additional chemicals are often included in paints to give them certain desirable qualities. Scuff resistance, easy application, mold resistance, and other similar traits make the painting process much simpler and ensure that the results last for years to come.
How Do I Choose My Paint?
When you're faced with aisles and aisles of paint options, the decision can feel overwhelming to say the least. At Platinum Painting, we don't leave you to make this choice alone. Throughout the process, our team can help—whether you'd like a complimentary color consultation, advice about sheen, or insight about the latest design trends.
As a consumer, you can rest assured that when you choose Platinum Painting, you opt to use the industry's best materials and expertise, which means that your home will not only look nice but also be a welcoming haven for your family.
About Platinum Painting
Platinum Painting has been in business for more than a decade and has painted more than 10,000 homes. Starting in Keller, our company has expanded to many communities throughout North Texas and has assembled a group of experienced, skilled craftsmen who take pride the quality of our work. If you have questions about the products we use, we invite you to reach out to us by clicking here.