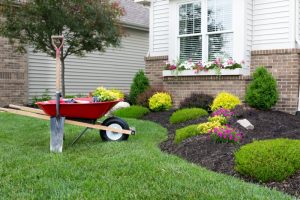 When you look at your front yard, do you like what you see? If you don't, chances are that others won't either. Maybe it just needs some freshening up after a long, cold, lazy winter—then again, maybe it needs a complete makeover. Well, now is the perfect time of year to get your landscaping into shape before the warmer spring months when everyone wants to be outside. Not only can the right improvements in your landscaping in North Texas make the yard more bearable to look at, but it can also increase your property's value.
Why should I care about my landscaping?
Imagine that your yard is a person going on a first date. What kind of first impression would it make? Would it appear clean, inviting, and stylish? Or would it seem sloppy and unkempt? This is exactly what your landscaping can do for your house. Regardless of whether you are looking to sell your house in the immediate future or not, you can create a welcoming feeling that starts before you even set foot in the door—with the right landscaping.
How does landscaping affect my home's value?
Curb appeal matters. When your home makes a good first impression, you're likely to get more interested buyers through the door, which can generate higher offers. Landscaping plays a huge role in improving your home's curb appeal and promoting buyer interest in it. In fact, addressing the landscaping is one of the best ways to boost its value. By making wise landscaping decisions, you could increase your property's value by up to 20%.
What kind of landscaping should I do for my home?
Everyone's tastes are unique, so it can be hard to identify specific plants or styles that yield the highest return on investment. For example, while some may appreciate the beauty of extensive, lavish rose bushes, others may be completely turned off by them. However, there are some basic landscaping tasks that consistently win buyers over, including the following:
Water and cut the grass consistently to make it look full and green.
Put down fresh mulch.
Add a splash of color with annuals, perennials, or seasonal flowering shrubs.
Keep trees and shrubs healthy.
Make sure bushes and the lawn have clean edges for a tidy appearance.
Get rid of weeds, preferably without using chemicals.
These tasks can be implemented on any budget and can make your home appear more enticing whether you intend to sell or not.
This spring, consider taking extra special care of your landscaping, particularly in the front yard. As you do, you can make spending time outdoors more enjoyable and more beautiful. By setting the right tone for your house with the landscaping, you can make it feel more like a home for yourself and some potential buyer in the future.
About the Author
Platinum Painting was started in 2008 by Karl and Marjorie Pickens in Keller, Texas. They offer painting services for many outdoor materials, such as wood, brick, composite, vinyl or aluminum siding, stucco, decks, patios, fences, railings, and more! They also can provide their customers with a color consultation with one of their experts to ensure that the paint will complement the landscaping. To contact Platinum Painting, you can call (817) 993-4125 in Tarrant County or (817) 993-4095 in Dallas, Denton, or Collin Counties or click here.