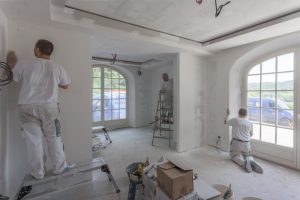 After working from home for nearly a year now, are you in desperate need of an interior makeover, but don't have the budget for remodels? Interior painting is an effective, affordable project to take on, and conveniently, winter is the best time to paint the inside of your house! Read on to learn why there's no better time to invest in interior painting than the winter months.
Use Your Time Off Productively
During the winter, you'll have several paid holidays and three-day weekends. Since you won't be going to visit family, you can celebrate the new year by sprucing up your home and giving it the modern and refreshing makeover it needs! With a fresh coat of paint in your home office, living room, or kitchen, you can help set a positive mood for 2021.
Many Painters Offer Winter Deals
Contractors are typically less busy in the winter months, making it the best time to paint the inside of your house because they typically offer deals. That means that you can get a professional interior paintjob for a fraction of the price, allowing you to repaint more of your home while staying in-budget. Plus, they'll be able to easily work around your schedule since they'll have fewer jobs that they'll be doing.
Paint Will Dry Faster
Although you may think that paint dries faster in the summer months, that's actually not true. The warmth of the summer usually means that there will be more humidity in the air. For water-based paints, this can make the paint thinner, yielding less-than-ideal results. Since winter air is cold and crisp, you won't have to worry about this problem.
Update Your Home
There are countless new interior painting trends that can make your home feel and look more modern, clean, and on-trend. Small changes, like painting your kitchen cabinets, adding an accent wall, and using the latest colors from Sherwin Williams that have a relaxing, spa-like feel to them are all great ways to increase your home's value and decorate it according to your unique taste.
Minimize Seasonal Depression with Change
Something as simple as a new, uplifting coat of paint that makes a room feel more positive, warm, and welcoming can help combat seasonal depression this winter as you work from home. With everything going on in the world, it can be hard to remain optimistic. Simple changes to your environment can help you feel productive, successful, and less sad this season.
There are countless reasons to repaint the interior of your home during winter, including the ones listed above, but the best advantage that you'll be able to enjoy from taking on this project is setting the tone of a blank slate in 2021.
About Platinum Painting
At Platinum Painting, our team of expert residential painters has countless years of experience helping families in North Texas improve their homes with a fresh coat of interior paint. From painting built-in bookshelves, to other complex structures, we have the experience and skills necessary to achieve the best-looking results. We're also up-to-date with all of the latest trends, and we're happy to provide recommendations on colors, sheens, and paint brands along the way. For questions or to schedule a free in-house estimate, visit our website or call 972-219-4115.