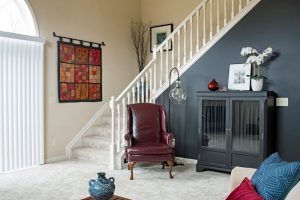 Whether you're moving into a new house and want to redecorate, or you feel like it's time for a modern transformation that better represents your style, adding accent walls is a cost-effective, on-trend option! A pop of color can help highlight your favorite features in your home and make it more cozy, funky, and interesting (depending on what look you want to achieve). Read on to learn how to choose the perfect wall to accent and the best color options.
Why Add an Accent Wall in Your Home?
Neutral colors are clean and convenient, because they work with every color of furniture and décor, but if you want to add an extra layer of sophistication and modern style to your home, accent walls can elevate a space. This project is simple and easy, but in terms of effect, it really packs a punch. With new interior paint, you can highlight a room, make it look larger, and bring a room full of disjointed furniture and accessories together.
To make sure that an accent wall is truly the best way to modernize and enhance your space, it's important to plan and visualize your project, including the goals you'd like to achieve by adding an accent wall, to make sure that you make the right choice.
What Walls Make Good Accent Walls?
Accent walls are a great way to add definition and focus to a space. They can also make a small or sectioned-off area look bigger than it currently does. In order to achieve your desired effect, it's important to choose your wall wisely. If you accent a wall that doesn't contain a prominent feature in your home to highlight, like a built-in bookshelf or a fireplace, then the entire affect will fall flat. Here are some tips to narrow down your options:
Generally, the first wall you see when you walk into a room can be accented.
Look for architectural clues and focal points of your home to accent.
Choose a symmetrical wall and avoid ones with odd niches and different-sized windows.
Accent a wall that you regularly face, and utilize your natural line of sight to choose the wall.
Choose a wall that doesn't have any interruptions, like doors, windows, etc.
Don't choose a wall that will be hidden by furnishings, like art, floor lamps, a sofa, etc.
What Colors are Best to Accent With?
When it comes to choosing the best color to accent your wall with, this part relies on your taste, creativity, and what type of feel you'd like to achieve in a room. If you want to create a living area that feels warm and cozy, choose a color with a warm undertone. If you'd like to add a funky feature that catches the eye, consider painting a mural on your accent wall. Ultimately, the color and patterns you choose are up to you. With your new accent wall in place, you'll be able to make your room a true showstopper.
About Platinum Painting
At Platinum Painting, our team of professionals has ample expertise when it comes to residential painting and design. Our work comes with a satisfaction guarantee and we are completely bonded and insured for homeowners' peace-of-mind. We offer a variety of home improvement services, including popcorn ceiling removal, interior and exterior painting, and kitchen cabinet painting and staining. For questions or to receive a free estimate, visit our website or call 972-219-4115.