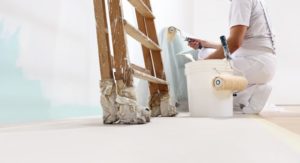 Are you wondering what's so great about hiring a painting company to repaint your home instead of just doing it yourself? For starters, they're licensed and insured, which offers a variety of unique advantages for homeowners. Instead of completing the project on your own only to need to redo it a year down the road, you'll be able to achieve great results the first time around when you hire a professional. Read on to learn more about the importance of having your painter be insured and licensed.
Avoid Paying More in the Long Run
Yes, it's true that an unlicensed painter can offer you a cheaper initial price, but that also means that there's a higher chance of you paying more in the long run. The additional expense of paying for licensing and insurance will raise a painter's price, but it'll ensure that any accidents, like a broken window on your home, will be immediately taken care of without you having to put up a fight.
Guaranteed Safety of Hiring a Licensed & Insured Company
If you're unhappy with the results or anything happens to your home if an uninsured painter is working on it, then you could be facing several risks, including:
If the contractor doesn't finish the project that you paid them for, you might not have any legal leverage to get the service you paid for.
If a painter is injured on your property, you may be liable for the incident without the painting company being insured.
If a painter accidentally damages your home, like a window or gutters, you could have to pay for it out of your own pocket if you aren't insured.
Be Sure to Ask to See Insurance & Licensing
Don't feel embarrassed about doing your due diligence and asking to see a painter's insurance and licensing before you hire them. Most painting companies understand that it's common for homeowners to ask to see these, which is why they have no qualms whatsoever about wielding their license and insurance to give them the peace-of-mind they deserve. If a painter seems hesitant to produce this paperwork or they seem offended, know that you should seek a different service provider, because this is a suspicious reaction.
Make Sure to Get the Best Results The First Time Around
Although it may be tempting for you to attempt to do your project yourself or hire an uninsured painter on the cheap, that's not always a good way to save money. When you hire a professional painting company, you can rest assured that you'll get quality results that meet your satisfaction without any risk of complications. That's truly a priceless guarantee!
About Platinum Painting
At Platinum Painting, not only are we insured and licensed, but we offer a satisfaction guarantee as well! We want to make sure that all of our homeowners are happy that they ultimately chose our experienced team to transform the interior or exterior of their house. We also offer a variety of additional services besides painting as well, allowing you to spruce up your entire home using the same, trusted team. For questions or to schedule your free in-home estimate, visit our website or call 817-380-4404.