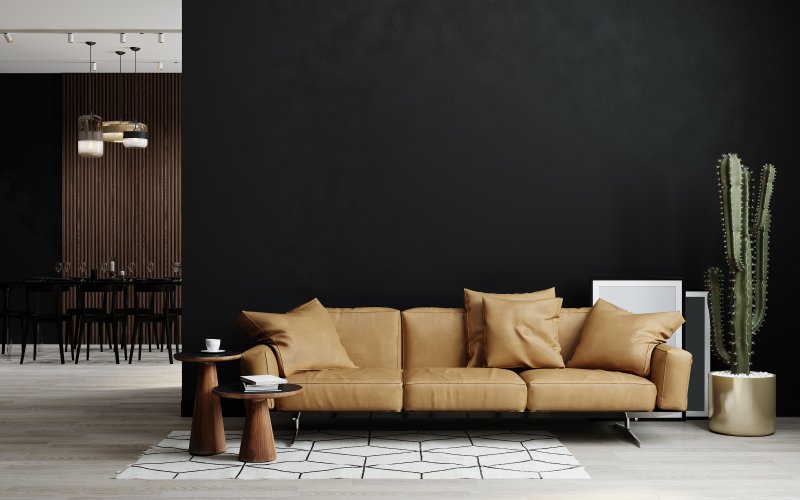 Do you want to add black paint to your home? In recent years, many people have been hopping onto the latest trend and painting their interior walls black. It's a great way to revamp your space and create a more elegant aesthetic. Even though the color makes a bold statement, it's still considered a classic, mainly because it pairs well with different types of furniture and décor. Of course, there are some things you should know before painting your walls black. Read along for a few tips!
Choose the Right Surfaces
The first thing you need to do is figure out which surfaces you want to paint. While you can simply stick to your walls, you may want to consider other elements like the trim or doors. You want to make your decision carefully because even though black paint is sophisticated, it can create an overly dark or uninviting space if you select the wrong surfaces. Some popular ways to use black paint include painting an accent, the tallest wall in the room, or your entire hallway. They'll make your home look sleek and dramatic without being overwhelming.
Don't Forget to Think About Sheen
Although it's important to choose the right black paint, you must also think about the sheen. The combination will need to complement the room you're painting. Cool black paints with blue or violet undertones are excellent for interior trim. They tend to work well with bold and bright hues. Meanwhile, warm black paints with brown or true black undertones are a great choice for pretty much any surface. They're extremely versatile and pair well with most accents, décor, or furniture.
If you decide on matte black paint, you must keep in mind that it's not as durable as eggshells or satin blacks. While it certainly looks beautiful, it likely won't work in a high-traffic area like a kitchen or child's room. You can always consult with a professional painting company to determine the best paint color and finish for your home.
Pay Attention to Lighting
Since black paint absorbs light, you want to make sure you're painting an area that is well-lit. If you're choosing a room that doesn't have enough natural light, you can make up for it by adding proper light fixtures. For example, you can incorporate higher-wattage overhead lights, wall lights, and floor lamps. It'll keep the room from feeling constricting and boxy.
Consider Your Décor
It's incredibly important to choose the right décor, furniture, and accents for your room as they can make or break your space. With the right elements, your home will look even more cohesive and inviting! You should consider including contrasting colors to help offset the hues, like bright throw pillows, a bold sofa, a cream headboard, or white picture frames.
When it comes to interior painting projects, it's always a good idea to call a professional crew for help. These experts will use the right tools and techniques to give your home the flawless, long-lasting finish you deserve!
About Platinum Painting
At Platinum Painting, we want to turn your home into one you'll enjoy living in. Our experienced and knowledgeable team will go the extra mile to deliver stunning results that'll leave you wanting more. We'll make your interior design vision come to life! For a free interior painting estimate, visit our website or call (817) 380-4404.