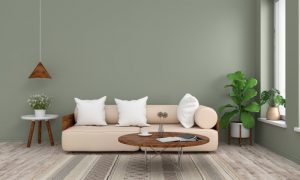 Can you believe how quickly 2022 has passed already? It seems like only yesterday the year was just beginning, and now it's a fourth of the way through! If you are curious about how designers suggest fixing up your home this year, it's still not too late to get on trend. Although some styles come and go, these are likely to stick around for a while, so check out just three trends for interior paint and design you'll want to know about!
Returning to Nature
Like millions of others over the past two years, you've probably spent more than enough time indoors. Bringing nature home with you is a simple way to not only make your space feel more open and airy but also help you relax and connect with the outside world. Through having indoor-friendly plants, using nature-inspired décor, or choosing natural shades of paint, you can feel more like you're experiencing outside even when you're in your house.
Returning to the Classics
When life gets challenging or frightening, many people turn to things that never change. When it comes to home style, there are certain trends that will always be dependable and classic. Some of these trends include white or off-white paint for cabinets or walls, antique pieces, and classic patterns like stripes.
Although in many cases designers and homeowners are favoring timeless pieces and design statements, they are also excited to bringing back non-traditional bold colors and patterns from the 60s and 70s. Even curved furniture looks like it's making a comeback this year!
You can put a modern spin on a classic style to help you feel more comfortable in your living spaces.
Going Green
If you will be considering painting rooms in your house, there's one color that needs to make the list: green. Basically every shade of green is popular at the moment, possibly because of its calming, yet vibrant effect. Reminiscent of nature, green allows you to bring life inside even if you aren't a fan of the outdoors.
Many homeowners and designers are not only loving the color green in 2022, but they are also being more eco-friendly in putting together interior spaces. This means they are selecting more sustainable design elements, such as bamboo flooring and furniture and other plastic-free, responsibly sourced features. It makes sense to follow suit and have the planet in mind while improving the look of your home.
Before you know it, 2022 will pass, but when you make the right design choices in your home, you can make that comfortable feeling last much longer! These trends are worth considering so that you, your family, and your guests can feel comfortable for years to come.
About Platinum Painting
Platinum Painting has painted over 12,000 homes in the North Texas area. Starting in Keller, the company quickly grew because of outstanding customer service from the first in-person quote to the final inspection. We work with independent color consultants in certain cases to make sure homeowners are completely happy with their selection. If you would like to learn more about Platinum Painting, you can contact us online here.