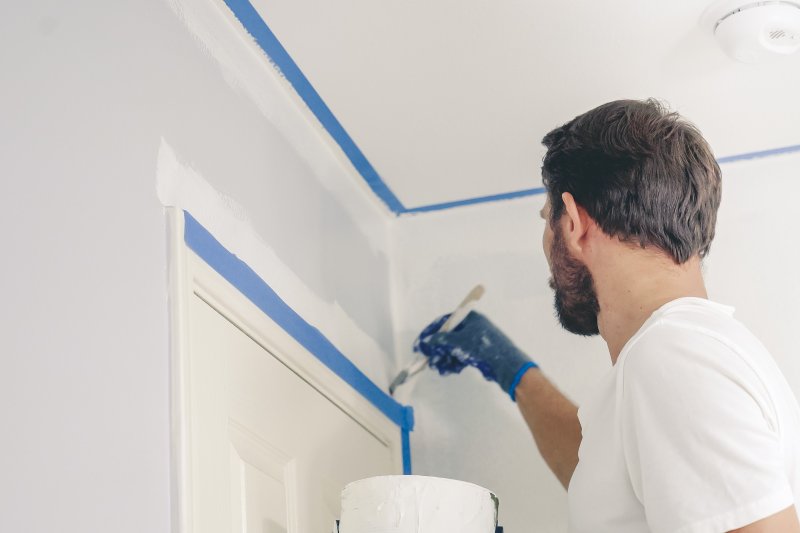 Are you tired of going home to the same old colors that you always see? It may be time for an upgrade! If your house has several blemishes and unsightly mistakes, you might be wondering what can be done to improve your home's appearance. Well, a fresh coat of paint can go a long way in enhancing your space. Read along to find out how you can easily give your home a facelift!
Repaint Your Doors
Doors. We use them every day to get in and out of spaces – but have you ever stopped to look at them? The paint can become faded, discolored, or chip over time. Maybe the color is looking a little outdated! Whatever the case is, repainting your door can give your home an instant boost of curb appeal and freshness. Be sure to choose a color that's trendy and matches the rest of your interior!
Freshen Up Your Trim
When was the last time you painted your interior trim? If it's been a while, then it's likely starting to look a little grubby. Fortunately, you can get rid of some of that grime by using a Magic Eraser. Another solution is to simply repaint the trim! Not only will it help cover up any flaws, but it can give your home a beautiful new look.
Touch Up the Hallways
Walls can easily get dirty, especially if you have small children. That's because kids tend to believe that walls are made to be handled and touched frequently. However, like the trim, there's only so much you can do to clean off fingerprints. Eventually, you may just need to repaint the walls to restore a fresh appearance. Since it might be impossible to match the exact color of your wall, the best option would probably be to repaint the entire hallway.
Update Your Bathroom
You may quickly realize that your bathroom needs to be repainted before the rest of the house. That's primarily because there's regular moisture, heavy use, lots of dust, and harsher chemicals in one small area. All of those elements combined can have a significant impact on the paint! Luckily, it's easier to repaint the bathroom than other areas in the house because it's one of the smaller rooms in a home.
Are you ready to freshen up your home? If so, consider hiring a professional painting crew to get the job done. They'll get it done in no time and help you fall in love with your home all over again!
About Platinum Painting
At Platinum Painting, we strive to meet the satisfaction of every homeowner. Our skilled and compassionate team always goes the extra mile to make every painting project a success. If you're thinking about upgrading the interior of your home, don't hesitate to reach out to us for your painting needs. For a free estimate, visit our website or call our office today.