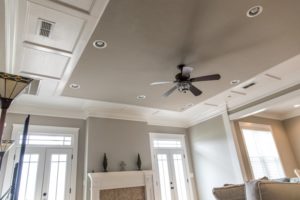 When you decorate your home, you are meticulous in picking the right pieces. You painstakingly read interior design magazines and search on Pinterest for the paint colors you want for the walls. But in your planning, you may have forgotten one important thing—the ceiling!
When it comes to interior paint, ceilings are often neglected or automatically painted white, but there are plenty of reasons to consider painting this "fifth wall" an interesting color. Read on to learn how this one design tactic can change your rooms!
Make the Room Feel Larger
Believe it or not, some designers say that colored paint on the ceiling can actually create the illusion of more space in the room. This is particularly effective for rooms with low ceilings. For an even greater impact, you can paint the walls at least two or three shades lighter than the ceiling in the same color. Popular colors to paint on a ceiling to create this effect include dark blues, chocolate browns, and dark grays.
Other designers say that a colored ceiling can make a tall, open room feel more cozy and intimate. In the dining room, living room, or kitchen, depending on the size, can have a darker ceiling to make these spaces more comfortable. Whether you want the room to look larger or more intimate, you can create a feeling that will turn your house into a home.
Add Elegance and Sophistication
Does your home have crown molding, interesting light fixtures, a fancy chandelier, or other features that you want to highlight? Drawing attention to the ceiling with a beautiful color makes the room appear more complete and more intentionally designed. It also brings the eyes upward so that your guests are bound to notice the upgrades your home has.
Give the Room Some Personality
Although neutral colors can appeal to the majority of homebuyers, they can also look boring. Do you want your home to stand out from the rest? Consider painting the ceiling of a bedroom with a bold hue and choosing coordinating accent pieces that create a fun contrast in the space.
Especially if you plan on being in your home for a long time, you should put your own stamp on it. Allow your kids to participate in picking the paint color(s) for their rooms, including the ceiling, so that they can take ownership of their domain.
As you improve your home and make it your own, don't overlook the ceilings. Breathe new life into your home by addressing the ceilings in a bold shade. Painting them in a color other than white can add depth and character to your living spaces that you simply can't get by painting the walls alone.
About Platinum Painting
In addition to painting walls, Platinum Painting can work with ceilings. From removing popcorn texture and painting ceilings, we are happy to bring any design dreams to life. To help homeowners find the right shades for their rooms, we offer a free color consultation with a team member with years of industry experience. If you would like to paint your ceilings in your next home improvement project, you can contact Platinum Painting by clicking here.