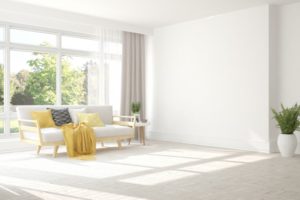 Do you know that you want a neutral white paint for your home but aren't sure which shade to pick? It seems like once you narrow down the color of the interior paint you want to choose, that would be the bulk of the decision-making for this project. However, when you get to the paint store, you'll quickly notice that you still have a wide variety of options to choose from. Read on to learn about different shades of paint and how to choose the one that best suits your home.
How Much Natural Light Does Your Home Get?
To narrow down your different shades of white to choose from, one great place to start is to consider how much natural light your home gets and where you live geographically. Interestingly, homes on the northeast coast, like New York and Massachusetts, are illuminated with natural gray light. That's why professional painters recommend a brighter shade of white paint to balance the gray undertones. Homes in the southwest, like Texas and Arizona, receive natural light in pink tones that go best with cooler white shades.
Why Should You Consider the Furniture & Floor Colors?
When choosing a shade of white at the paint store, it's important to keep in mind the color of the floor and permanent fixtures in the room you're redoing. Even though the color is white, different shades can have gray, blue, and other colors of undertones that can either clash or compliment furniture or flooring.
How Do You Choose a Complimentary Trim Color?
Don't forget to repaint your trim color when you redo your room! You don't want to have a shade of trim that doesn't beautifully frame your new paint job. A good rule of thumb to keep in mind when considering the trim color is to keep it simple. If you're painting the entire room white, you can also experiment with choosing a trim paint with a different finish, like a semi-gloss, to make it perfectly accompany the walls.
So, What's the Right Shade of White for Your Home?
Once you've considered all of the factors above, if you're still on the fence about what type of paint to choose, it's best to consult with your professional painter. Once you've narrowed your options down to a couple of shades, ask your paint store for small sample containers that you can test out on your walls. When the paint dries, you can observe how the color looks throughout the day in different lighting and decide which one you like the best!
About Platinum Painting
Our team at Platinum Painting is experienced and dedicated to helping homeowners along every step of the way. From preparing the walls inside the home to applying the perfect number of coats for ideal results, our team never cuts corners and takes great pride in our work. That's why we proudly offer a satisfaction guarantee and come completely insured and bonded. For questions or to receive a free estimate, call us at 817-380-4404 or visit our website.