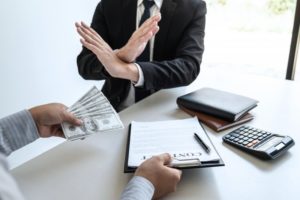 Are you looking to improve the curbside appeal and add a splash of your personality into your home? One great way to do that is with a fresh coat of paint. In order to get the best possible results, it's important to hire a professional painting company that you can trust. Unfortunately, with so many scammers out there, this can be difficult! Here are four questions to ask the company you're thinking about hiring to make sure that you don't make a sour investment!
Do You Require Payment Before the Project is Finished?
Professional painters take pride in the quality of their work, which is why they usually don't require payment before the project begins. While it is typical for a small consultation fee, if a painter is requesting a large amount of money from you before any services have been rendered, this is a big red flag.
It's also a good idea to be leery of painting companies that constantly change their estimate amount or the requirements for your payments. Established, trusted professional painters will have a strict, organized system that they follow for every customer. If they're constantly changing arrangements, this could be a sign that they plan to scam you.
Why is the Language in the Contract so Vague?
As a general rule-of-thumb in life, never sign a contract that has vague language that can be manipulated or used against your interest. A good painting company that is well-established will have specific, non-ambiguous language and will be more than happy to answer any questions that you have about the agreements and terms of the job.
Are You Licensed & Qualified Professionals?
Professionals who have all of the proper licensing, insurance, and qualifications to run a business, you'll be able to rest-assured that any accidents that happen on the job site or mishaps won't fall on your shoulders to take care of. Acquiring all of these credentials and paperwork takes a lot of time, which is why professionals who have it are more than happy to show you proof to help you feel more comfortable working with them. If they seem defensive or hesitant to do so, they're likely scammers.
How Much Experience Does the Team Have?
A painting company that is well-established in a community and has being doing their trade for awhile will often yield the best results. That's not to say that newer businesses are scammers, but to get the best investment and ensure that you enjoy the paintjob, it's a good idea to go with trusted experts.
By asking your painting company these four questions, you'll be able to discern whether or not they're scammers. If any red flags do pop-up, try looking for professional painting companies in your area on Google, where you can see whether they plenty of reviews and recommendations!
About Platinum Painting
Our Platinum Painting team is highly experienced, locally-owned, and has been strictly painting residential buildings for years. With multiple locations across North Texas, we've become a trusted provider with hundreds of reviews and Better Business Bureau Accreditation. We are completely bonded and insured and also offer a satisfaction guarantee as well. To schedule a free estimate, visit our website or call 817-380-4404.