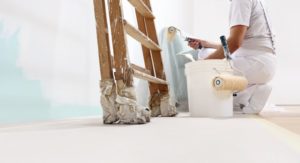 If you need to paint the inside of your house, it's a good idea to begin by researching the dos and don'ts of interior painting. Between preparing your walls, applying the perfect number of coats, and choosing the ideal paint for the area, there are several factors that you'll need to consider in order to achieve the best results. Read on to learn about three common mistakes that homeowners make when they try to repaint their interior that can be costly and time-consuming.
Mistake #1: Not Preparing Your Walls Correctly
Many homeowners aren't aware that you can't just start painting your walls as soon as you purchase the paint and brushes. Before you start the project, you'll need to examine the area to make sure that there aren't any flaws on the surface of the wall, like dent's or scuffs. You'll also want to make sure that they're completely clean. If there's dirt, dust, or flaws on your wall, painting over them will highlight them instead of hiding them.
It's also important to make sure that the room that you're painting is properly taped and tarped to make sure that if any paint gets flung around, it won't create an additional job for you after you finish your project.
Mistake #2: Rushing Through the Job
Just like with pretty much any project you take on around the home, it's important to plan out every step and take your time. When you rush through a paint job, you could end up with a massive mess to clean up afterward, streaking and dripping paint that yields less-than-appealing results, and uneven edges and corners that make the interior of your home look like an unfinished paint-by-numbers. Make sure to outline a step-by-step plan before you start your project and take your time to make sure that you get amazing results.
Mistake #3: Using the Wrong or Cheapest Materials
Whether you're painting one room or your entire home, it's important to do research on the type of paint you're buying and to make sure it's good quality. The materials for your paint job are only a small part of your investment, and purchasing low-quality paint could mean that you'll just need to redo the project again in six months to a year, wasting your money and time. Make sure to apply the proper number of coats to your wall and use a high-end paint that's best suited for each room that you're painting.
With these helpful tips for painting your walls, you can make sure that you get amazing results the first time around. Many homeowners decide to hire a professional painter for guidance throughout the process and to make sure that the paint doesn't streak or run. This is a great option to help you save money in the long run and get lasting results that you can enjoy.
About Platinum Painting
At Platinum Painting, our team of expert residential painters never cuts corners and has a wealth of knowledge that they can share with you to help you avoid costly errors while choosing the color and type of paint for your home. We're also bonded and insured and offer a satisfaction guarantee, so you can rest-assured that you'll achieve ideal results. For questions or to schedule a free estimate for interior painting, visit our website or call 817-380-4404.