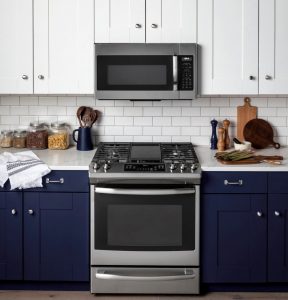 Although certain colors, such as orange and red, have had their time being popular colors for kitchen cabinets, those days are solidly in the past. Other colors have endured the test of time and are still favored among designers and homeowners alike today. What are the classic colors for kitchen cabinets? Which paint colors should you seriously consider for your own cabinets? Keep these ones in mind while you make your decision!
White
When it comes to the kitchen, a classic, pure white will always be in style. It conveys a clean look and goes well with every other color and style you can imagine, meaning it works for basically any kitchen. Also, when the cabinets are a crisp white, they allow other features of the kitchen to be highlighted, such as accent pieces, appliances, or other areas you may wish to draw attention to.
White and Dark Gray
If you want your kitchen cabinets to have a little more depth but keep that light aesthetic, you could pair white upper cabinets with dark gray lower cabinets. This color combination gives you the best of both worlds! With the dark gray, you can have a more sophisticated look that ties in well with stone countertops and still have an airy feeling in the kitchen.
Vibrant, Dark Blue
Although bold colors are usually frowned upon, a deep blue like navy blue enables you to use more attention-drawing hardware on your cabinets. Rich, warm blues are also a great option for the kitchen because they are soothing while helping one of your higher traffic areas make a unique statement.
Greige
If you are considering choosing between gray and beige for kitchen cabinets, why not go with the in-between option? Greige is more subtle than dark gray but still provides more grounding than pure or off whites. Plus, it is very versatile and complements many types of countertops.
Slight Off-White
Going with a pure white may seem a little too sterile, stringent, or overwhelming, but a well-chosen off white can give you a similar feeling of cleanliness and lightness with a softer touch. In other words, these subtle shades can make your house create a homier, more comfortable atmosphere.
Unless you want your kitchen to look like a time capsule years from now, you should think about painting your cabinets one of these classic colors. That way, you can keep loving this space and not regret your decision.
About Platinum Painting
In the Dallas-Fort Worth area, Platinum Painting has been ranked the #1 residential painting company. With more than 12,000 homes painted in North Texas, we can manage projects as small as one room or as big as entire three-story homes. If you need help selecting paint colors for your cabinets, we'll be happy to set up an appointment with a third-party color consultant so that you love how it turns out—guaranteed! Contact us today if you would like to schedule an in-person estimate.