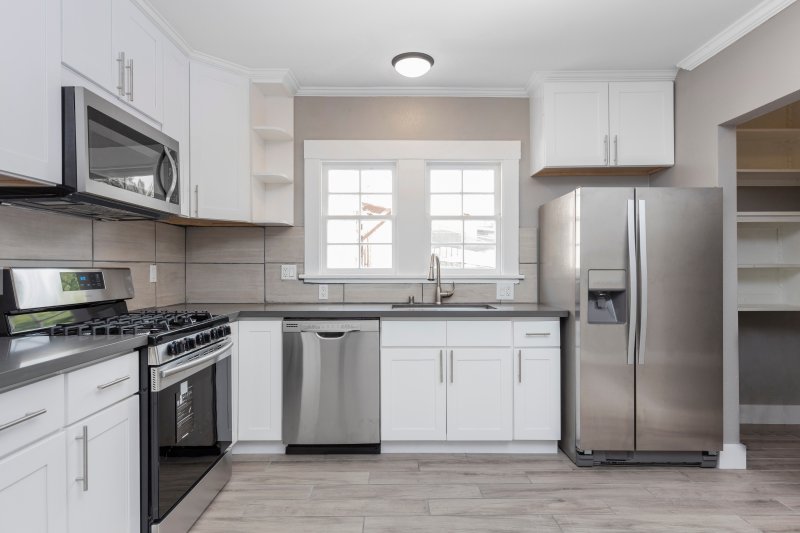 Stainless steel appliances are all the rage right now. While they certainly look sleek, it can be difficult to find a kitchen color scheme that works well with them. Fortunately, the silvery cool is extremely versatile and likely won't clash with other elements in your home. By choosing the right colors, you can easily create a beautiful cooking space! Read on to learn which paint schemes work in harmony with stainless steel appliances.
Light and Dark Shades of Grey
Have you thought about simply color coordinating your kitchen? Because stainless steel appliances have grey undertones, it only makes sense to go with a grey kitchen design for your countertops, tiles, and walls. By doing so, you can create a modern kitchen with a touch of cosmopolitan appeal. It's a classic paint scheme that doesn't need other colors to pop! Of course, you can always add some greenery if you'd like the room to feel a bit more vibrant.
Classic White
If you want to play it safe, consider pairing your appliances with a classic white color. Although it's simple, it'll still give your kitchen a sophisticated look. Plus, it'll be a great contrast against the silvery hue of stainless steel. Since white is a clean accent color, it'll help highlight the stunning characteristics of a modern kitchen, making the space feel bright and airy.
Earthy Tones
Do you want a more traditional feel for your kitchen? Brown is a great earthy tone to consider. It's natural, warm, and works well with cool shades like silver. The combination will make your space feel nice and cozy! If you'd like a brighter appearance, you can always opt for lighter shades of brown like mocha.
Yellow Cabinets with Grey Walls
A bright yellow color is a great way to make your stainless-steel appliances shine with warmth! Best of all, it makes a bold statement. If you're nervous about committing to such a bright color, take a look at samples and try out different shades beforehand.
Green Walls
Want another earthy color option? Green is a beautiful color that'll never go out of style! It's become an increasingly attractive option for kitchens because it adapts to both warm and cool color schemes. If you have a smaller kitchen, you should consider a paler shade like apple or lime green. With natural light, those colors will keep the space from feeling dark and dingy.
Are you unsure about which paint scheme to choose? You can always reach out to your local professional painting crew for an expert opinion. They'll help you select the perfect idea for your home!
About Platinum Painting
At Platinum Painting, we always go above and beyond to ensure every project meets the satisfaction of the homeowner. Our goal is to transform your space into one you'll always want to be in! If you would like to repaint your kitchen, don't hesitate to ask about our painting services. We're more than happy to do all the hard work for you. For a free estimate, visit our website or call our office today.