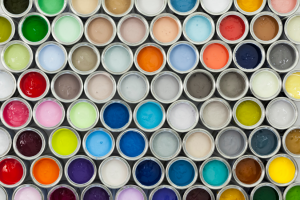 Paint is the reason that so much of our world is filled with color, and we use it for so many different purposes: identification, protection, sanitation, and of course, decoration. But rarely do we stop to appreciate what makes the paint itself so magnificent and capable—the ingredients used and the carefully-curated manufacturing process! Here's a little more about what goes into the paint that's used to brighten and liven up the walls of your home, along with how it's made!
The Ingredients Used to Make Paint
Historically, a lot of different ingredients have been used to make paint; people simply used whatever they had access to, including mostly things like colored rocks and earth, or even sometimes organic matter like bits of insect and bone. However, these days paint makers have found all sorts of efficient and effective ingredients to use to make paint, which ensures that the paint hitting the shelves is of the highest quality. Here's a brief breakdown of the four main types of ingredients used to make paint:
Pigments, which provide the paint with color, hiding, and control gloss.
Resins, which are the binders used to hold the pigment particles together and provide adhesion to the surface being painted.
Solvents, which act as carriers for pigments and resins. They could be organic like Mineral Turps or water.
Additives, which enhance certain properties including ease of brushing, mold resistance, scuff resistance, and drying and sag resistance.
The 5 Main Steps of the Paint-Making Process
Paint is typically manufactured in large barges—these can vary anywhere from 200 liters to 10,000 liters, depending on the type being made. This timeline can also vary from a couple of days to a couple of weeks. Here's a closer look at the five key steps that occur during this process:
#1: Measuring the Ingredients
All of the ingredients are measured using highly accurate scales and placed in measuring containers. These scales allow the precise addition of ingredients, no matter the size of the batch.
#2: Preparing the Mill-Base
Since pigments are usually such a small size that they tend to clump together, they need to be wetted with resins and additives and milled until they've been broken down. This process is called dispersion, and it forms a mixture called the mill-base.
#3: Adding the Let-Down
The remaining ingredients are combined in a different vat into a mixture called the let-down. After a few necessary additions, it's then stirred and mixed into the mill-base to begin finalizing the mixture.
#4: Testing the Product
These tests assess things like the paint's degree of dispersion, viscosity (consistency), density, hiding, tint strength and color, application, dry time, and gloss and dry film appearance.
#5: Canning and Distributing the Paint
Once the batch has passed inspection, a sample is taken and stored for future reference before the paint is finally canned and sent off to various distributors, where it will then eventually find its way to you!
About Platinum Painting
Platinum Painting has helped hundreds of homeowners across the DFW metroplex with all sorts of paint projects over the last 15 years, and they look forward to helping you next! If you have any questions about the blog or you'd like to arrange an in-home estimate for assistance with your next project, don't hesitate to contact us today!