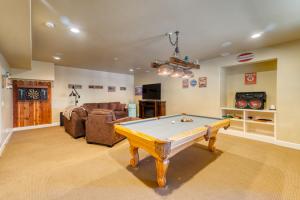 A man cave is a sanctuary and personal space where a guy can unwind, entertain his friends, and showcase his interests and personalities. While décor, furniture, and collectibles are all vital, it is the paint color scheme that truly sets the mood and establishes the cave's atmosphere. With that in mind, if you're planning to paint (or repaint) your beloved man cave, you should be certain that you're picking colors that'll serve you well for many years to come. Continue reading below to learn more about some of the best colors and tones to consider.
General Tips When Choosing a Man Cave Paint Color
Before contemplating specific color choices, there are a few general considerations you should be making, many of which have to do with lighting. In a basement or man cave with little to no natural light, you'll want to pick colors that can make the space feel brighter; shades of white work best, but other light neutrals such as pale grey, soft beige, or pastel blues and greens can have the same brightening effect.
You should also consider the intended use for your basement and the mood you're trying to capture; are you aiming to create a space that regularly entertains others, or are you hoping to construct your own Fortress of Solitude like the Man of Steel himself? Brighter, vibrant colors might be better for the former, while darker choices tend to instill a more relaxed feel.
In terms of specific colors, here are some noteworthy choices that homeowners everywhere turn toward when painting basements, entertainment rooms, and man caves:
Charcoal Gray
Classic charcoal gray is a timeless choice for virtually any type of room, but especially man caves. It's both modern and versatile, and even has a hint of masculinity. It can be masterfully paired with various styles, from modern to industrial, and also serves as an excellent backdrop for showcasing sports memorabilia, collectibles, pictures, artwork, and more.
Navy Blue
Navy blue exudes a sense of calm and elegance; it's a versatile color that can complement both traditional and contemporary man caves, and it can easily be paired with leather furniture or pieces with metallic accents.
Earthy Tones
If you prefer a more rustic and cozy setting, earthy tones like warm browns and deep greens are also great choices. These colors evoke a sense of comfort and relaxation, making your man cave the ideal place to unwind after a long day of work.
Black
When The Rolling Stones wrote Paint It Black, they probably didn't have man caves in mind—but black is a sophisticated, intense, and charismatic color, making it an ideal choice for an accent wall, trimming around the ceiling, or even the entire space! The amount of depth and contrast that black walls can create will open up endless possibilities for how to decorate the rest of the area.
Sports Teams Colors
If your man cave is dedicated to your favorite sports team, you'd be wise to consider using their colors as the primary palette for your space. Not only does this show your dedication to your squad, but come game day, the vibes will be immaculate!
Choosing the right paint colors for your man cave is a crucial step toward creating a space that feels like your own. And if you're unsure, you can always count on a trustworthy team of pros to make insightful suggestions and recommendations that guide you toward a decision you're excited about!
About Platinum Painting
The talented team at Platinum Painting has assisted hundreds of homeowners all across the DFW metroplex with a wide variety of painting projects, and they'd love to help you with your next grand undertaking!  If you have any questions about the blog or you'd like to contact the team to set up a FREE in-home consultation, feel free to visit their website or give them a call today for additional information.