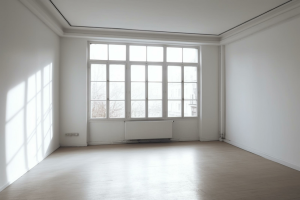 When starting any type of painting project, choosing a color scheme that suits your design goals is no easy task—there are quite a few things that you must consider! Among these things is lighting; the interplay between light and paint can lead to some pretty stunning effects and unmatched ambiance, but it can also lead to unexpected, undesirable outcomes if you're careless. Keep reading to learn more about how both natural and artificial lighting can influence how paint looks within your home, along with a few considerations to keep in mind when paint shopping.
How Does My Home's Lighting Influence Paint Color?
Unfortunately, paint doesn't always remain the same color as when it was applied. Many things can influence its appearance, such as wear and tear and the quality of the materials, but light is actually one of the biggest offenders.
Natural light, or light that enters your home through windows, differs in intensity throughout the day and across seasons. For example, if your room is north-facing, the light that enters will be softer and will produce a warmer effect. Darker hues will feel darker, and lighter colors will be more subdued since light from the north adds a touch of blue.
If you're painting a room with southern exposure, it will receive more intense light; darker colors will feel brighter, and lighter colors might leave the room feeling washed out. East-facing rooms receive bright, warm light in the mornings and west-facing rooms experience a golden glow in the evening; at any given hour, the light entering your home can vary!
Interior artificial lighting is just as impactful, given the varying levels of warmth and brightness that these bulbs come in. Incandescent bulbs emit a warmer, yellow light while fluorescent bulbs produce cooler, blueish tones. LED lights, blacklights, and other types of bulbs can create all sorts of unique or wacky interactions and illuminations. The placement of these lights can also cast shadows, further influencing how your painted walls appear.
What Should I Consider When Picking Paint?
The best way to determine how your home's lighting will affect your painted walls is to test the paint colors in each room—paint samples exist for this very purpose! This step is crucial, and observing how the light plays with the paint samples will help you make a well-informed decision. Keep in mind that certain colors look different under certain light; whites and off-whites can sometimes reflect hues from certain objects in the room, such as furniture. Similarly, calmer, muted tones work well in rooms that tend to not have much lighting to begin with, like bedrooms.
Additionally, it's worth considering what type of finish you're using. Certain finishes, including flat, gloss, semi-gloss, etc. can all play a role in how colors appear; gloss can add depth, but under certain light it can be quite reflective, meaning that the glossier the finish, the more light will bounce off and distort the color!
About the Practice
The team at Platinum Painting has proudly served homeowners all across the DFW metroplex for several years, and they look forward to assisting you with your next big paint project! If you have any questions about the article or you'd like to set up a FREE in-home consultation, don't hesitate to contact the Platinum Painting team today for additional information.