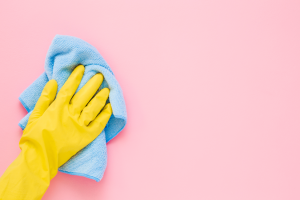 If you're planning to paint the interior of your home, you're probably busy going down a long checklist of must-do tasks—but have you thought about what you're going to need to do after your walls have been painted? One key thing to keep in mind is how to go about cleaning walls with paint; after all, you should want to protect your investment and ensure that it lasts and looks spectacular for several years to come! Plus, clean walls can also facilitate a healthier home environment. Here are some must-know tips and considerations to keep in mind so that it's quite seamless to keep your painted walls clean and immaculate moving forward.
Tip #1. Use Appropriate Cleaning Supplies
You should know that wall cleaning does not require any specialized products; chances are, you already have everything you need on hand! Use basic cleaning supplies that are mild enough to use on most wall treatments while still getting the job done—just note that you'll want to steer clear of anything abrasive or ammonia-based. It also never hurts to spot-test a cleaning solution in a small area before getting started. Here's what you'll need:
Liquid hand or dish soap
Soft cloths or rags (microfiber cloths are a great idea)
Clean sponges
A bucket (or two) filled with water
A vacuum with a dust brush attachment
Baking soda
Stain remover
Hydrogen peroxide
Tip #2. Clean Correctly and Safely
After acquiring all of the appropriate cleaning supplies, you should be certain that you know how to use them safely and correctly—you wouldn't want to inadvertently ruin your paint or harm yourself while cleaning your walls! Before getting started, dust your walls from the top down using a broom, duster, or vacuum attachment. If you're working in an area with outlets or electrical switches, be careful not to get them wet, and turn off your breaker before cleaning them.
You should also employ the correct cleaning techniques; use one bucket of warm water for rinsing and use the other for your wall cleaner (a mixture of water and dish soap can suffice here) and work your way down the wall using light, circular motions. You should also work in sections to prevent spotting and discoloration. If you have any stubborn stains, work on them after you've washed the rest of your walls. For specific stains, hydrogen peroxide is a natural bleaching agent that's typically safe for painted finishes.
Tip #3. Maintain Your Walls
Of course, dusting your walls regularly and spot-cleaning them as needed will keep them clean and looking their best; having to spend the better part of your weekend doing a full-blown cleaning of your walls is much more work than keeping up with them on a daily or weekly basis. Pay special attention to high-traffic areas in your home, as well as walls around switch plates and door frames. Though you should thoroughly wash your walls once every year, you'll be creating far less work for yourself if you focus on preventing grime, dirt, stains, and dust from accumulating in the first place!
About Platinum Painting
At Platinum Painting, we've helped hundreds of homeowners across the DFW metroplex with a wide range of painting projects, and we'd be thrilled to assist you with your upcoming renovation! If you have any questions about the blog or you'd like to arrange a FREE in-home consultation for an estimate, feel free to give us a call today or visit our website for additional information.