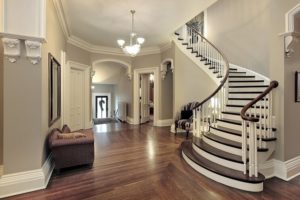 You use them every day when you wake the kids up for school or put away laundry. Your little ones race down them when they're excited, and your teens try to sneak up them when they don't want to be caught out of bed. Your stairs serve a clear purpose—to get you from floor to floor in your home. But this space can do more than just help you move about the house. Have you ever thought of your staircase as an important design element in your home? In this post, you'll learn how painting the stair railing can transform your home.
What can stairs do for the look of my home?
Your staircase has the potential to make an interesting architectural statement. In most homes these days, the balusters (or vertical supports), which hold up the bannister, have beautiful details that can liven up the space—if only they could be seen. Due to poor color or design choices in the past or the sheer passage of time, your stair case may visually disappear. The good news is that you can correct the issue and make sure your stair railings draw positive attention.
Keep in mind that you don't have to have a grand, winding staircase or fancy, intricate balusters and spindles in order to highlight these features. After all, simplicity is beautiful too.
How can painting improve my staircase?
With time, your staircase can look worn or outdated or can be overlooked entirely. But revamping your staircase doesn't have to include a total redo or time-consuming renovation! It's amazing what a fresh coat of paint and the right color combination can do to make this design element pop, not to mention the updated feel it can give your home as a whole.
In some situations, you may need to start by painting the walls around the staircase and then choose a complementary color or finish for the balusters. You may also want to paint the handrail to complete the look you're going for.
How can I choose the right paint for my staircase?
There are many resources and examples online you can find that reflect your style. But perusing Pinterest or Google can quickly become overwhelming. That's why at Platinum Painting we offer a free color consultation with one of our seasoned team members. We can give you advice for bringing out your staircase's best features.
The next time you go up or down the stairs, take a quick look at the handrail and balusters. If they need an update, then it's time to give Platinum Painting a call! We'll help you turn this functional space into a stunning design feature of your home.
About Platinum Painting
Platinum Painting has been serving DFW homeowners since opening in 2008. We have experience painting basically every surface including wood and metal in stair railings. Unlike many other painting companies, we offer a free in-home quote, provided by our experienced estimators. They have decades of industry experience and can advise you on getting the results you want. If you would like Platinum Painting to breathe new life into your staircase, you can contact us by clicking here.