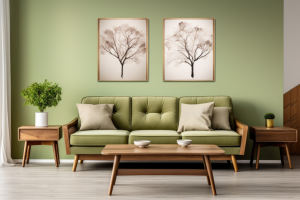 When it comes to decorating a room, one of the most common dilemmas that homeowners face is whether the paint on their walls should match their furniture. It's a question that has sparked countless debates among interior designers and DIY enthusiasts alike; some argue that matching paint and furniture creates a cohesive and harmonious look, while others believe that mixing and contrasting colors add depth and personality. Continue reading to learn a little more about the pros and cons of this trend so that you're left satisfied with your home's transformation.
Matching Paint Creates Visual Cohesion
One of the primary benefits of your paint matching your furniture is the sense of visual cohesion it brings to a room. When the colors of your furniture and walls complement each other, it creates a harmonious environment that makes the space feel much more put together, inviting, and spacious. This can also work with different shades of the same color; a much wider variety of design goals can be achieved by using a varying degree of different shades and hues. For example, a navy-blue couch could match sky or pale blue walls quite well, or a light gray rug could pair with pewter walls
Neutral Shades Can Match Almost Anything
Turning toward neutral shades is a smart move, as very few colors clash with gray, beige, and white. These colors come in so many varieties and patterns that they can fit all sorts of design needs and enhance all types of furniture, no matter how minimalistic or complex. It's also always worth keeping in mind that certain colors can offer unique psychological benefits; for instance, blue generally helps people relax and lower tension thanks to its cool appearance, and red can instill feelings of excitement!
Contrasting Colors Also Work Well
Contrasting colors are found on opposite sides of the color wheel, or even next to each other, and they can be quite useful for those vibrant, boldly colored pieces of furniture. Designers everywhere praise contrasting colors for the energetic boost they can provide to a room. Take a yellow couch for instance; it might seem out of place at first, but in front of violet walls, it can look fantastic! The benefits of paint matching furniture extend far beyond just aesthetics; they touch upon the overall feel and functionality of a living space!
About Platinum Painting
The talented team at Platinum Painting has proudly assisted countless homeowners in the DFW metroplex with a wide variety of interior painting projects, and they'd love to help you with your next undertaking! If you have any questions about the article or you'd like to get in touch with the team to set up a free estimate, feel free to visit their website or call them today!