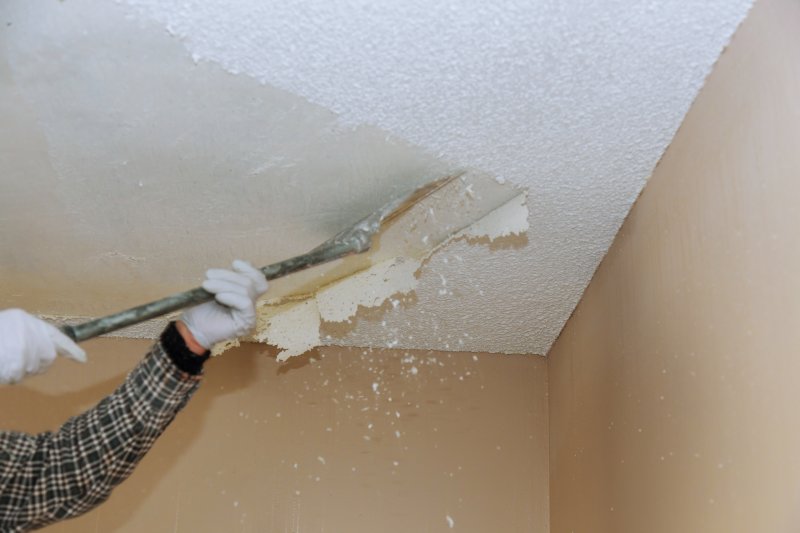 Popcorn ceilings were all the rage back in the 70s and 80s. If your home has these, it was likely built during this time. Not only has this design become outdated, but it poses a high risk of collecting dust. Luckily, you can remove the texture and give your ceilings a sleek, modern look! Instead of doing it yourself, you should consider hiring a professional crew to get the job done. Read on to find out why!
Should You Remove Popcorn Ceilings?
Some homeowners like to redecorate their homes often, switching up the aesthetic to match what's hot at the moment. If you have popcorn ceilings, you'll quickly realize how challenging it can be to decorate with an outdated design. By removing it, you can paint your ceiling any color that you want without having to worry about the textured material getting in the way!
Additionally, it'll make it easier to repair your ceiling should it get damaged in any way. It can be difficult to replace a portion of a popcorn ceiling because you have to find the exact texture and color to ensure everything blends seamlessly together. Otherwise, it will look inconsistent.
Why You Should Hire a Professional
If you want to redecorate your ceiling, the first thing you should do is remove the popcorn material. It can be a daunting task, which is why you shouldn't attempt to complete it on your own. Instead, you should consider hiring professional help as a team of people will make the entire process much easier and far more productive.
Also, there's likely drywall sitting behind your ceiling. If you make any mistakes while removing the popcorn material on your own, you could easily damage the drywall in the process. By letting the pros handle it, you can ensure your ceilings remain in tip-top shape.
Plus, you can reduce your exposure to toxic chemicals (i.e., asbestos and lead) which could potentially be inside your ceiling. This is a significant benefit to keep in mind, especially if you have children living in your home.
As you can see, replacing your ceiling doesn't have to be a whole ordeal. With the help of a professional painting crew, it'll be done before you know it! They'll take every precaution necessary to keep your home in optimal condition while ensuring everything looks great.
About Platinum Painting
At Platinum Painting, your safety and security are our utmost priority. That's why we offer a popcorn removal service to families throughout the DFW area. If you're ready to get rid of this texture from your home, feel free to give us a call. We're ready to do all the work for you! For a free estimate, visit our website or contact our office today.