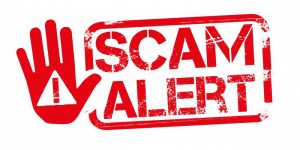 When you receive that same, old email from an African prince asking for money, you know it's a scam. Unfortunately, not all con artists are this easy to spot. In fact, some pose as home contractors who run away with your money delivering a half-finished or completely undone project.
How can you tell if you are being scammed? How can you make sure you're working with an honest painting company? If you notice any of these signs, run!
Quotes Over the Phone
When you're just starting out in your research for painting contractors, you may want to get a ballpark estimate for services. However, quotes over the phone are rarely accurate. You may be told one amount but see a much higher one on the bill later on. Talk about an unpleasant surprise!
The pricing should be straightforward and transparent from the beginning. A reputable company will want to see the project before giving you an estimate, preferably one in writing. That way, you can rely on it when the bill comes due.
Payments Upfront
Some legitimate painting companies ask you to pay for the consultation, but others don't. In fact, there are contractors that are willing to eat that cost for the opportunity to win your business.
Even if you do pay for a consultation, do not choose a company that requires payment for the project upfront. Once you pay them, they have nothing to keep them coming back to finish the job, and you could be stuck either doing the work yourself or hiring a real painting company to do it all over again.
Good painting companies will earn your payment and make sure you're satisfied with the results before getting paid.
No Licensing or Insurance
Before hiring any contractor, you have the right to ask for their credentials and insurance information to verify that they're legitimate. If they refuse or avoid the subject repeatedly, they could be trying to scam you.
On the other hand, an honest company will be fully insured and have the required qualifications by law. Having these credentials—and a contractor willing to share them—can give you peace of mind moving forward.
In addition, looking up customer reviews and before and after photos can also be helpful to know about the quality of a contractor's work.
Too Cheap to Be Good
Everyone loves getting a deal, but sometimes companies are able to offer services at a much lower rate because they work with lower-quality products. These paints may fade or discolor more quickly, be less durable, or simply not look quite right.
Along with inferior paints, for a cheaper price, you may be working with a crew with little experience, meaning you could get sloppy results. Needless to say, if you find a contractor who bids much lower than other competitors, you should be a little suspicious.
Not every home contractor is out to con you. In fact, there are many reputable, trustworthy companies out there—now you know how to spot the bad ones and find a good one!
About Platinum Painting
Platinum Painting has painted well over 12,000 homes in the DFW area. We are fully insured and have all the necessary qualifications as well as years of experience in customer service and home improvement. In fact, most of our crew members are highly skilled craftspeople. We only give estimates in person and in writing, and we send an estimator to your house for a free consultation. If you are interested in working with Platinum Painting, reach out to our Customer Care team here.