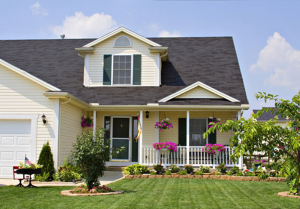 Whether you're simply trying to spruce up the appearance of your home for your own benefit or prepare it for potential buyers, there's a lot that goes into helping your house to leave a lasting impression. However, you don't have to have boatloads of money or impressive manpower to enhance your home's curb appeal; there are several easy, DIY tips that you can implement to get your home looking positive, well-maintained, and inviting. Keep reading to learn more about a few of them!
Consider the Entryway
The entrance to your home sets the tone for your entire property, and it captures the attention of all who pass by—so you should make sure it looks great. You might upgrade your front door and knocker, add tasteful lighting, redecorate your porch area, or replace some of the flowerbeds with new, beautiful additions. Be sure that any sidewalks and walkways are cleared of leaves, twigs, and other debris; a clear space is much more inviting and pleasant to look at!
Enhance the Landscaping
A well-manicured lawn with appealing greenery can also add a lot to your home's curb appeal; keep your lawn trimmed and your flowerbeds looking nice, and make sure everything's watered and healthy. If you don't have any already, planting a tree in your yard can also add a nice sense of appeal and add life, and longevity to your home; two trees can also nicely frame your entryway!
Revitalize with a Fresh Coat of Paint
Even just one gallon of paint can make an incredibly noticeable difference when you're upgrading curb appeal. Choose a color that complements the surrounding landscape and neighborhood aesthetic, and also consider adding accents or highlighting architectural details with various shades. While it might seem cheaper to do things yourself, it's worth noting that a group of skilled professional painters can't be beaten—and depending on the size of your home, is usually more cost-effective and time-efficient anyway.
Don't Skip the Small Stuff
While it's likely that your neighbors and anyone who passes by will notice the bigger improvements that you make, you shouldn't neglect the small things either. Upgrading the house numbers on the side of your home, especially if they've faded over time, can add a whole lot—plus they'll be easier for potential buyers to read! Don't forget to place them in a well-lit spot and use brightly colored paints. You might also consider upgrading your mailbox; this small investment can lend a lot of character to your home and complement the rest of your front yard.
With these tips, you can transform your home's curb appeal from average to outstanding—all it takes is a little bit of time and effort!
About Platinum Painting
Here at Platinum Painting, we pride ourselves on being able to provide the DFW metroplex with an exceptional level of service. Our skilled and knowledgeable team has assisted countless homeowners and looks forward to working with you next. If you have any questions about our services or would like to set up a free consultation, feel free to contact us!