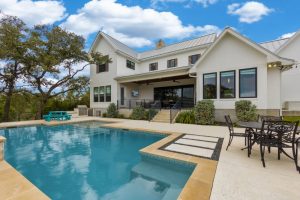 Are you a fan of home-renovation shows or magazines? Do you try to keep up with what designers love? With so many colors of exterior paint to choose from, the decision can feel overwhelming—even if you consult their advice. However, the color that homeowners and designers adore right now for 2023 is a warm off-white, and when you take a closer look at it, it makes perfect sense!
A Safe, Classic Favorite
If you follow design trends, you quickly see that some fads come and go with a limited time in the spotlight. Warm, off-white tones keep coming back into style. In other words, you can bet that this color will stay in designer's favor for the long term, meaning you can feel comfortable with your choice years into the future.
Easier on the Eyes Than Purer Whites
Have you ever exited a car or a building only to be blinded by the sun? This experience can be especially harsh on the eyes as sunlight reflects off true-white surfaces.
Compared to other shades, warm off-white still keeps the color light, but it is a little bit kinder to your eyes than brighter whites. With this choice of color, you can still enjoy a shade of white on the outside of your home—just with a softer effect.
More Conducive for Natural Tones
No matter how old your home is or even its style, your house likely has some natural elements on or around it like brick, stone, or wood. In addition, plants, trees, or other landscaping go along with the house, creating its curb appeal. Overall, warm off-white tends to work more seamlessly with colors found in nature than gray or even pure white. This option enables your property to simultaneously make a statement while blending in with its surroundings.
Better with More Styles
When it comes to the style of your home, you need to choose a color that fits. All white tones, namely this off-white, goes with so many different designs and façade styles on the outside of homes. Whether you have a brand-new, modern build or a traditional older home, off-white can strike just the right tone, highlighting your home's charm and character.
When it comes to your home, the best person to determine the right exterior color is you! However, taking a closer look at this understated shade may help make your decision so much easier and one you won't regret years from now.
About Platinum Painting
Platinum Painting has served homeowners in the Dallas-Fort Worth area for 15 years so far. We specialize in residential painting—both interior and exterior—and can work with any variety of materials, such as brick, siding, wood, and more. If you would like assistance selecting your paint color, we can set you up with a color consultant, who stays informed about the latest design trends. To schedule your free, in-person estimate, contact our Customer Care team here.