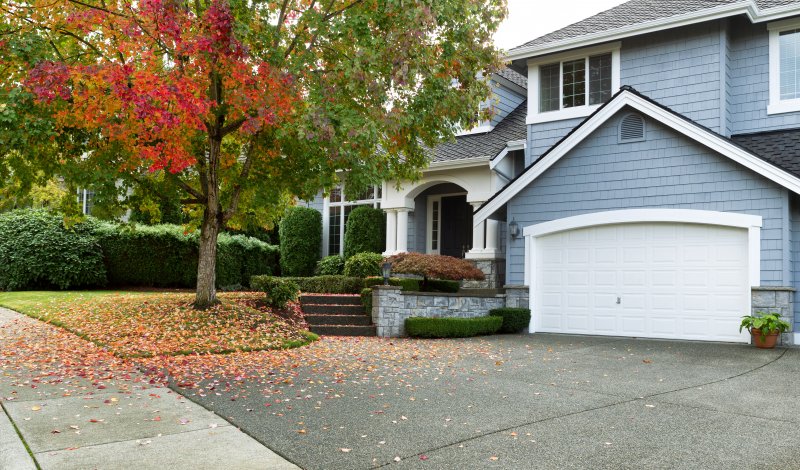 The days are getting shorter, the leaves are changing color, and the temperature is dropping – do you know what that means? Fall is right around the corner! Some homeowners believe this season is an excellent time to paint the exterior of your home, especially if you've been putting off the project all summer. While that's certainly true, there are some precautions you'll need to take. Continue reading to learn a few useful tips for exterior painting during autumn.
What Factors Should You Keep in Mind?
Fall may seem like a great time for an exterior painting project, particularly because you don't have to worry about fighting the summer heat. Before picking up a paintbrush, there are a few things you should keep in mind:
Lower Temperatures: If you want optimal results, you should avoid applying exterior paints and stains when temperatures are lower than 50°F. However, some premium paints can be applied when temperatures are as low as 40°F. Make sure you select paints that are designed for application during colder temperatures. You'll also need to allow ample time between coats, usually at least 24 hours. That's because lower temperatures mean slower drying and longer curing times.
Dew Points: The dew point is the temperature at which moisture will condense on a surface. Paints should not be applied unless the surface temperature is at least 5° higher than the dew point. It's worth noting that all surfaces to be stained or painted will need to be clean and dry. Otherwise, dew can cause you to experience some water spotting or surfactant leaching problems.
Tips to Make Your Fall Painting Project a Success
If you want your exterior painting project to be successful, here are some fall tips to help you out:
Paint during the best hours, which is between 10 AM and 3 PM
Follow the sun to speed up drying times by painting your way around the house
Because paint dries more slowly in lower temps, wait at least 24 hours before applying a second coat
Check wind speeds! Even a 10mph wind can fling leaves onto your wet paint, so be careful
Need help choosing the perfect fall color for your exterior painting project? Ask your local professional painting company for assistance! They'll make sure you get long-lasting and beautiful results that'll leave heads turning.
About Platinum Painting
At Platinum Painting, we understand painting the exterior of your home can be a difficult and stressful task. That's why we're more than happy to do all the hard work for you! Our professional team will use top-brand products and time-tested techniques to ensure you get quality results. For a free estimate, visit our website or call our office today.