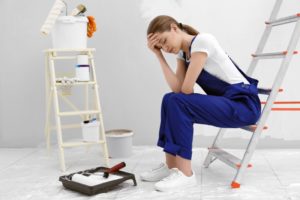 You've just purchased your first home. Naturally, you're anxious to put your own stamp on it and make it reflect your style. You decide to start with a "simple," inexpensive project: painting the walls. Although you can tackle this task by yourself, you could end up spending a lot of time and energy and have sub-par results if you're not careful. In this post, you'll learn about some of the most common painting mistakes and how you can avoid making them on your project.
Sacrificing Quality for Cost Savings
You can have the best paint brand available, but unless you use high-quality application tools, you won't get the best results in your paint job. Inferior roller covers, brushes, and tape may seem like an easy way to save some money on your project, but you'll likely end up spending more cash to buy additional paint for full coverage. Instead, opt for quality tools so that your paint can be applied as efficiently and evenly as possible.
Also, if you want clean, sharp edges, be sure to use painter's tape and not masking tape. Putty knives are also essential tools you should purchase. The small extra investment is worth not having to deal with or notice little mistakes for years to come.
Skipping Right to Painting
You may be excited to start painting right away, but there are multiple steps you should take before you open your first paint can. Is the existing paint peeling or chipping? Are the walls clean? Have holes been properly patched? If you don't deal with these issues before you paint, your hard work will have been for nothing.
Sometimes, the surfaces need some treatment prior to painting. If the wall you're painting already has high-gloss paint on it, then you must sand it first to enable the new paint to stay in place. For many other surfaces, you need to apply a separate coat of primer before you begin painting. Although you may be able to get away with utilizing a paint-and-primer mix, priming the walls is an important step that shouldn't be overlooked.
Painting Aimlessly
When applying the paint to the wall, you should always start near the ceiling and work your way down. Painting randomly only leads to inconsistent coverage. Plus, this method ensures that you don't have drips or other blemishes in the paint job.
Perhaps painting isn't as simple or straightforward as you originally thought. In that case, you can turn to professional painters, who know exactly how to handle every situation and already have the right tools at their disposal. When you leave it to the pros, you can sit back and enjoy watching your house turn into your home.
About Platinum Painting
The Platinum Painting team has painted well over 10,000 homes all over North Texas. With more than a decade of experience, we understand how to manage any situation and what the best materials are. With us, customer satisfaction comes first, so you're guaranteed to love the results. If you have questions about working with Platinum Painting, feel free to contact us and ask!