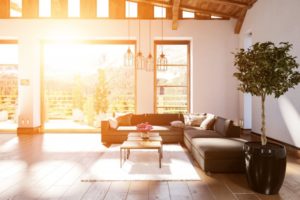 It's been a while since you've updated your décor. As you remove pictures, artwork, and other objects from the wall, you can't help but notice a drastic difference between the space surrounding them and the area underneath. How did you not see how faded your walls have become over the years? Now you absolutely must repaint if you want to redecorate. Don't beat yourself up—pigment fading occurs incrementally over time because of the sun's degrading UV rays. In this post, you'll learn how to keep your paint from fading and make sure your new wall paint stands the test of time.
Use Window Treatments
If you have direct sunlight coming through and making your paint fade, you can block it from entering the room with window treatments. Keep the blinds or curtains closed when you're not there or during the time of day when damaging rays shine directly on your walls. This simple step can stop UV radiation from making the color of your walls appear dull.
Choose a More Reflective Sheen
The sheen of your paint can impact how quickly it fades over time. Flat, matte, and eggshell paints tend to absorb light more than satin or semi-gloss and, therefore, tend to fade sooner. Although you may not want to paint an entire wall in semi-gloss, which is typically used for trimming and doors, a satin finish can help your walls reflect damaging UV light and retain their beautiful color.
Go with High Quality Paint
When looking at your choices, you may be tempted to save a quick buck by opting for the more "cost-efficient" paint. But be careful! It may be cheaper because it uses cheap materials. The higher quality paint can better resist fading because of its more robust binders and pigments. As a result, it may stay the color you want for longer than other inferior paints. In the long run, that can save you money, time, and the headache of repainting sooner than you want.
Apply Multiple Coats
These days, many paints can be applied and cover the surface in just one coat. Even though this may be convenient and save you a bit of time and money upfront, a single coat of paint is more likely to lose its coloring than multiple reinforced coats. When you paint the walls, you're investing in that room. You can make your investment last longer by applying more than one thin layer of paint.
You don't have to accept fading on the walls—you can prevent it from damaging your paint job. If you follow these tips, your walls can hold onto the rich color you've chosen and have it still look amazing for many years to come.
About Platinum Painting
Our team at Platinum Painting stays updated on painting and design trends and utilizes the best materials available. Although we can use whatever brand or type of paint you prefer, for interiors we typically choose Sherwin Williams' Cashmere Interior Acrylic Latex for its quality and affordability. If you have questions about our paint or if you'd like to get a free estimate in your home, don't hesitate to reach out to us!