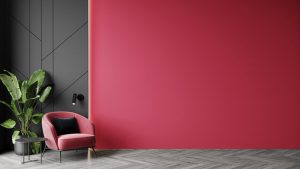 The new year is finally upon us, and you might have some spectacular and colorful plans in store! And if those plans involve selecting a new shade of paint to brighten up your home, you might want to consider the new color of the year for this upcoming year—"Viva Magenta!" Here's a little more about how you can easily embrace this color and use it to beautify your home in 2023.
The Color of the Year for 2023: Viva Magenta
In these unprecedented and unpredictable times, the world needs a color to represent the strength and spirit that we've manifested over the past couple of years. And there's no better color to embody this resilience than Viva Magenta. This shade of red is certain to put a pep in your step and have you feeling confident about a brighter and more optimistic upcoming year!
Tips for Incorporating Viva Magenta into Your Home
You've got several options for integrating Viva Magenta into your home, many of which are both practical and customizable. Consider the following:
Accent walls – Viva Magenta can be bright and playful or deep and moody, and it effortlessly blends with any texture or shape which makes it easy to harness its full potential in your home. This means you can use it to give a vibrant kick to virtually any of your rooms such as your living room, dining room, home office, or even the guest bathroom.
Kitchen – Painted cabinets is still a popular trend that will unlikely cease to continue, so it's an easy way to apply some Viva Magenta to your kitchen and have it pop! However, remember that selling a home in the future may necessitate painting your kitchen a neutral color for more mass appeal.
Appliances – If committing to transforming a whole room is a little too much for you, you might also consider painting or picking up some magenta appliances to show off the color in small bursts.
Bonus tip: Shades of gray – Gray is a neutral color that balances the intensity of magenta. Although gray has been written off by many interior designers as passé, it's still a contemporary and upscale option when properly utilized with a vibrant color like magenta.
About Platinum Painting
Here at Platinum Painting, it's our pleasure to provide homeowners with all of the knowledge, techniques, and necessary means to ensure the beautiful, vibrant results that you deserve. If you have any questions about the article or would like to request additional information, don't hesitate to contact us online for assistance or an estimate.